I always hear people say they don't make movies like they used to.Well truthfully they don't, but they still make great movies each and every year. 2011 was another successful year and while I only listed about 50 films below, I honestly could have stretched the list to at least 75 movies I'd feel comfortable recommending. If you can get away from all the Hollywood blockbusters and make room for more obscure genre films or art-house cinema, you will discover some truly great gems.
Best Movie Poster – Cabin In The Woods
Runner-up: Meek's Cutoff
Best Sound Design
Tinker Tailor Solider Spy
Best Sound Editing
Transformers: Dark Of The Moon
Best Editing
Zachary Stuart-Pontier – Martha Marcy May Marlene
Best Art Direction
Carlos Bodelón – The Skin I Live In
Best Score
Chemical Brothers – Hanna
Best Soundtrack
Drive – various artists
Best Canadian Film
Hobo With A Shotgun
Directed by Jason Eisener
First-time feature director Jason Eisener and writer John Davies deliver an entertaining, comically violent throwback to low budget 70′s and 80′s genre movies. The skeleton here is that of an an urban western, in which a drifter with dreams of a better life is caught in a lawless town, pushed a little too far, and as a result delivers justice, one shell at a time. Hobo looks and feels like a long lost relative to exploitation features of the Canadian Tax Shelter films from decades past.
Best Animated Film
The Adventures of Tintin
Directed by Steven Spielberg
The first collaboration between Spielberg and Peter Jackson, two of cinema's most biggest producer-directors, lives up to the hype – a teaming that brings an ol' fashioned adventure flick that harkens back to the action-packed, tongue-in-cheek swashbucklers of the 1980s. Blessed with a smart script and the best craftsmanship money can buy, Tintin blends thrilling chases, eccentric characters, sharp humour, detective work and even an incredible animated silhouetted credit sequence with nods to both Saul Bass and Spielberg's own Catch Me If You Can. Working hand-in-hand with Jackson, the director and his team have deployed both 3D and motion-capture technologies with subtle finesse. Likewise, the motion-capture performances are amazing. The effect is a surprisingly entrancing mix of the real and unreal, a technological achievement that's more than matched by Spielberg's talent as the best director of family entertainment.
Runner-up: Rango
Best Action Film
13 Assassins
Directed by Takeshi Miike
Cult director Takeshi Miike (Ichi the Killer, Audition) delivers a bravado period action film that is both a vivid samurai drama to an absolute work of genius. The visually spectacular, stunning wide-screen cinematography, impressive, full-scale sets and special effects and incredibly immersive action scenes, places 13 Assassins right up there among the finest in the genre.
Runner-up: Detective Dee and the Mystery of the Phantom Flame
Best Sci-Fi Film
Attack The Block
Science-fiction movie buffs looking for a change of pace from Hollywood fare will appreciate this thoroughly entertaining but clever low-budget British action-comedy. On its surface, Attack the Block is about unlikely heroes saving the world from an alien invasion, but it's really a metaphor for all the obstacles these kids face on a daily basis. Without a doubt the most energetic and fun screening all year.
Runner-up: Super 8
Best Documentary
The Interrupters
Directed by Steve James
Steve James delivers his most ambitious project yet in The Interrupters, a tough and honest documentary that tells the moving and surprising stories of three Violence Interrupters who attempt to protect their Chicago neighborhoods from the violence they once employed, and reclaim their streets, one corner at a time, one person at a time. This weighty but auspicious look at how the CeaseFire movement is sweeping through the Windy City makes for a truly inspiring documentary. The Interrupters is impeccably crafted and edited, without the need of any post-production window dressing. Without even narration or talking head interviews, Steve James offers us an intense close view into the ghettos of a big city without overly dramatizing any of his subjects nor the violent situations he encounters. Each case proves emotionally overwhelming but more importantly has the power to inspire change and make you believe that change is possible. The Interrupters is possibly the most necessary film of the year – the most moving, the most tragic, and quite simply one of the best.
Runner-up: We Were Here
Most Overlooked Film
Bullhead
Directed by Michaël Roskam
Writer/director Michaël Roskam delivers an assured directorial debut in Bulhead, a disturbingly visceral art-house drama that ably blends elements from other genres. While punctuated with moments of austere dark humour, Bullhead ranks as one of the most original crime pics in recent memory – one which is light on crime but heavy on drama, blending thriller elements into what amounts to a character study. This emotionally driven tale of revenge, redemption and fate is morally complex and constantly surprising, shattering the myths of brute machismo by way of its central standout performance in actor Matthias Schoenaerts.
Best Actor
Michael Fassbender – Shame
Best Actress
Tilda Swinton – We Need To Talk About Kevin
Best Original Screenplay
Asghar Farhadi – A Seperation
Best Adapated Screenplay
John Logan – Hugo
Best Cinematography
Emmanuel Lubezki – Tree Of Life
Best Director
Steve McQueen – Shame
Best Horror Film
Kill List
Directed by Ben Wheatley
Wheatley follows up his debut Down Terrace with a gripping, deeply disturbing, genuinely terrifying, and genre-bending film that continually catches you by surprise. Kill List is brilliantly directed, superbly written and recalls classics like The Wicker Man and Witchfinder General while boasting the most terrifying and audacious climax in recent memory. If you can stomach the strong violence, this is worth the watch. Part character study, part crime flick, Kill List is simply the best British horror-thriller in over a decade.
Runner-up: We Need To Talk About Kevin
Best Released Film
Shame
Directed by Steve McQueen
Shame, Steve McQueen's sophomore film and second collaboration with Michael Fassbender, is a compelling and timely examination of sexual compulsion and self-loathing in the modern world. Few filmmakers have probed so deeply into the soul-crushing depths of sexual addiction as bravely as McQueen does here. Fassbender owns the screen fully unselfconscious about the full-frontal nudity and graphic (but simulated) sex required of him. With very little dialogue, the actor peels back layers of self-loathing, dominates every scene and gives the most compelling performance of the year. Meanwhile Steve McQueen's control of sight and sound solidifies him as the next great director. Simply a masterpiece and sadly misunderstood by so many critics online.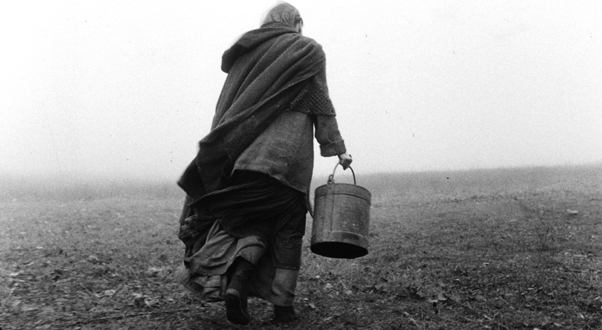 Best Unreleased Film:
Turin Horse
Directed by Bela Tarr
Cinema's greatest crafter of tone, mood and atmosphere, Bela Tarr, unleashed his final film in 2011. The Turin Horse is an dubious story of Nietzsche, when in 1889, he saw a cabman abusing his horse and decided to intervene. Co-directed by Ágnes Hranitzky, The Turin Horse will bore 99% of audiences – but lovers of vivid atmospheric films will find themselves mesmerized. The Turin Horse is essential viewing for the braver, more discerning/patient filmgoer; a remarkable expressive black-and-white film with a haunting score, brilliant sound design, Tarr's trademark long takes and the longest-most beautiful establishing shot you'll ever see.
[vsw id="v32n4lCG0OA" source="youtube" width="500″ height="425″ autoplay="no"]
–
50 Favorite Films
If you notice some movies missing, it might be because I listed them last year. Some of those include Quatrro Volte, Incendies and Uncle Boonmee Who Can Recall His Past Lives
Turin Horse
Shame
Melancholia
Tree Of Life
Bellflower
Drive
Kill List
Martha Marc May Marlene
Take Shelter
We Need To Talk About Kevin
Meek's Cutoff
Wuthering Heights
The Artist
13 Assassins
Attack The Block
Beyond The Black Rainbow
Kid With A Bike

Super 8
Killer Joe
Beginners
Submarine
Hanna
Snowtown
Bullhead
Headhunters
Tyrannosaur
Hugo
Poetry
Certified Copy
A Separation
The Adventures Of Tintin
Tinker Tailor Solider Spy
A Lonely Place To Die
Hobo With A Shotgun
Absentia
Skin I Live In
Rise Of The Planet Of The Apes
The Future
Pina
Descendants
Senna
Rango
The Interrupters
Contagion

Moneyball
Retreat
Arbor
Tomboy
Mildred Pierce
Hadewijch
[wpchatai]