Gary Oldman as Jackie Flannery in State Of Grace (Phil Joanou, 1990, USA):
Long considered one of the most talented actors in cinema, it's very strange that his outstanding acting as the younger brother of Ed Harris' local crime boss in this underrated film doesn't get talked about nearly enough when discussing Oldman's body of work. This is a must-see performance for all Oldman fans. For the record, State Of Grace is a far better Irish mob film than The Departed (Martin Scorsese, 2006, USA), primarily because it contains much better acting across the board. Oldman was nominated for a Best Actor Oscar for Tinker Tailor Soldier Spy (Tomas Alfredson, 2011, UK/France).
Other notable Gary Oldman performances: Prick Up Your Ears (Stephen Frears, 1987, USA), Dracula (Francis Ford Coppola, 1992, USA), True Romance (Tony Scott, 1993, USA), Leon: The Professional (Luc Besson, 1994, France), Air Force One (Wolfgang Petersen, 1997, USA), The Contender (Rod Lurie, 2000, USA).
Lance Henriksen as Freddy Ross in Jennifer Eight (Bruce Robinson, 1992, USA):
Veteran actor Henriksen turns in a very memorable performance as a police detective who teams up with Andy Garcia's character to find a killer who preys on blind women. When Henriksen's character exits the film, the entire story just sags and becomes a lot less interesting as a result of his absence, ala Roy Scheider's character in Marathon Man. The always intense Henriksen has created some truly outstanding characters in his long career and Freddy Ross is surely one of them.
Other notable Lance Henriksen performances: Aliens (James Cameron, 1986, USA), Near Dark (Kathryn Bigelow, 1987, USA), Hit List (William Lustig, 1989, USA), Johnny Handsome (Walter Hill, 1989, USA), Stone Cold (Craig R. Baxley, 1991, USA), Hard Target (John Woo, 1993, USA), Dead Man (Jim Jarmusch, 1995, USA), Appaloosa (Ed Harris, 2008, USA).
Wes Studi as Magua in The Last of the Mohicans (Michael Mann, 1992, USA):
Studi delivers a very powerful and charismatic performance a deadly Huron seeking vengeance against a British general during the French and Indian War. Studi's strong presence stands out in every scene he's in despite the fact he has very little dialogue in the film. A talented and constantly working actor, Studi has yet to re-hit the cinematic high water mark he set for himself in this film.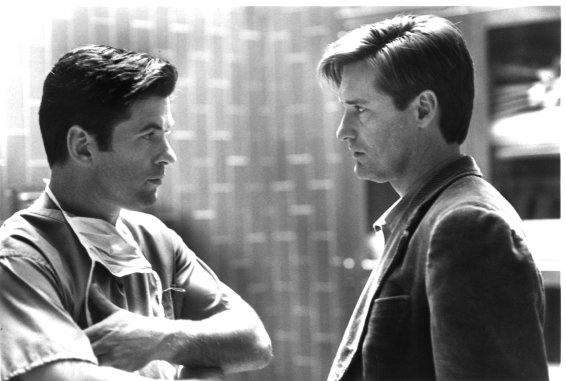 Alec Baldwin as Dr. Jed Hill in Malice (Harold Becker, 1993, USA):
As an arrogant doctor befriended by a college professor played by the film's lead actor Bill Pullman, Baldwin turns in some of his best acting in this film. His "I am God" speech in the medical review board scene is absolutely fantastic. Previously nominated for a Best Supporting Actor Oscar for his role as old school Las Vegas casino manager Shelly Kaplow in director Wayne Kramer's The Cooler (2003, USA), Baldwin is at his big screen best in Malice.
Other notable Alec Baldwin performances: Glengarry Glen Ross (James Foley, 1992, USA), Heaven's Prisoner's (Phil Joanou, 1996, USA), The Cooler (Wayne Kramer, 2003, USA).
Val Kilmer as Doc Holliday in Tombstone (George P. Cosmatos, 1993, USA):
Clever, confident and deadly all while battling tuberculosis, it's inexplicable negligence on this one as Kilmer sets the standard by which all portrayals of Doc Holliday past and future will be judged. Interestingly, TOMBSTONE was put into production to beat the higher profile Wyatt Earp (Lawrence Kasdan, 1994, USA) into theatres and on all fronts Tombstone is by far the better film.
Other notable Val Kilmer performances: Real Genius (Martha Coolidge, 1985, USA), The Salton Sea (D.J. Caruso, 2002, USA), Spartan (David Mamet, 2004, USA).
Sean Penn as David Kleinfeld in Carlito's Way (Brian DePalma, 1993, USA):
Penn re-teams with director DePalma and the result is more big screen gold. As a lawyer with a love for cocaine and some dangerous mob connections, Penn completely transforms in this role. His response in the scene where Al Pacino's Carlito asks him if he stole a huge sum of mob money is an amazing acting moment in an overall superb performance that's a textbook example of Penn's chameleon-like skills.
Other notable Sean Penn performances: see previous Sean Penn entry.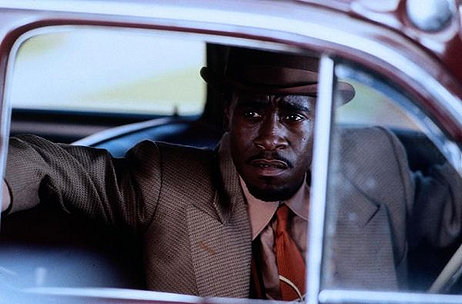 Don Cheadle as Mouse Alexander in Devil In A Blue Dress (Carl Franklin, 1995, USA):
Cheadle got a lot of press for being passed over for a Best Supporting Oscar nomination for this role, so much so he's stated in interviews that the amount of attention he got because of that journalistic outcry had the same effect on his career as actually getting the nomination. So, some kind of justice is served here for Cheadle's great performances as the trigger-happy Mouse in this excellent period crime film.
Other notable Don Cheadle performances: Out of Sight (Steven Soderbergh, 1998, USA), Brooklyn's Finest (Antoine Fuqua, 2009, USA).
Russell Crowe as Wendell "Bud" White in L.A. Confidential (Curtis Hanson, 1997, USA):
I've always thought that Crowe's intense performance as a head-busting Los Angeles cop in the 1950's would've garnered a well-deserved Best Supporting Actor Academy Award nomination if he'd been a better known actor at the time. While he'd already been in a couple of American studio films by this time, this was before the tidal wave of press and accolades he received for the overrated Gladiator (Ridley Scott, 2000, USA), including a Best Actor Oscar win. Crowe was definitely robbed here as he turns in the best performance in this highly regarded James Ellroy adaptation.
Other notable Russell Crowe performances: Romper Stomper (Geoffrey Wright, 1992, Australia), 3:10 To Yuma (James Mangold, 2007, USA).
Viggo Mortensen as Master Chief John James Urgayle in G.I. Jane (Ridley Scott, 1997, USA):
Overshadowed by the discussion of the political issues presented in the film, Mortensen turns in his first truly great performance here. Instead of doing a stereotypical one-dimensional take on a hard-nosed drill instructor, Mortensen makes his Master Chief a three-dimensional character and his acting is reason enough to seek the film out if you haven't caught it. His well-deserved Best Actor Oscar nomination for David Cronenberg's Eastern Promises (2007, UK) firmly cemented Mortensen's position on the critical map but his performance in G.I. Jane is also one of his very best and deserves far more attention than it has received.
Other notable Viggo Mortensen performances: A History of Violence (David Cronenberg, 2005, USA), Eastern Promises (David Cronenberg, 2007, UK).
Jason Patric as Cary in Your Friends and Neighbors (Neil LaBute, 1998, USA):
Patric plays a fully functioning misogynist sociopath in screenwriter/director LaBute's twisted version of a Woody Allen film. Patric's disturbing speech to his friends about the best sex he ever had is brilliantly played and will have you wanting to scrub your psyche with steel wool afterwards.
Other notable Jason Patric performances: Narc (Joe Carnahan, 2002, USA).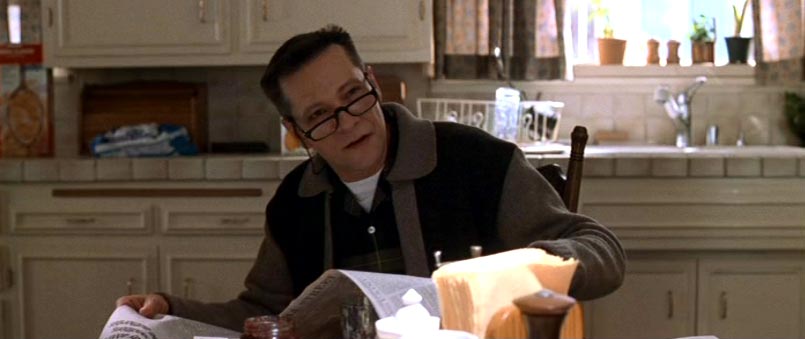 Chris Cooper as Col. Frank Fitts in American Beauty (Sam Mendes, 1999, USA):
Here is another example of the Dennis Hopper/Jeremy Irons syndrome mentioned earlier. Cooper won a Best Supporting Actor Oscar for his role in Adaptation (Spike Jonze, 2002, USA) when he should have won for his much more powerful and memorable performance as the conflicted retired Marine colonel in American Beauty. His revealing scene with Kevin Spacey's character towards the end of the film shows the always rock-solid Cooper at the height of his acting skills.
Other notable Chris Cooper performances: Seabiscuit (Gary Ross, 2003, USA), Breach (Billy Ray, 2007, USA).
Harry Lennix as Aaron in Titus (Julie Taymor, 1999, USA):
Lennix turns in a career-best (to date) performance as the homicidal Aaron in director Taymor's brutal and very uneven film adaptation of Shakespeare's Titus Andronicus. Highlights include the scene where Aaron suddenly and savagely murders a nurse and Aaron's confession speech before he is executed. This is by far Lennix's finest film performance, a superior match of actor and character.
James Caan as Joe Sarno in The Way of the Gun (Christopher McQuarrie, 2000, USA):
Famously nominated for a Best Supporting Actor Academy Award for his legendary portrayal of Sonny Corleone in The Godfather (Francis Ford Coppola, 1972, USA), Caan turns in one of his best big screen performances in this hit-and-miss crime film. In it, he plays an ex-cop employed by Scott Wilson's character to clean up an ugly kidnapping situation. If you are a James Caan fan, you must see this film. He delivers an excellent, highly underrated performance.
Other notable James Caan performances: The Godfather (Francis Ford Coppola, 1972, USA), Freebie and the Bean (Richard Rush, 1974, USA), Thief (Michael Mann, 1981, USA).
Jean Reno as Jean-Louis Schiffer in Empire of the Wolves (Chris Nahon, 2005, France):
French actor Reno turns in one of his best performances in this overlooked film as a disgraced corrupt cop who teams up with a young police detective to investigate a grisly murder with connections to the Turkish underworld. Employing his trademark quiet intensity to full effect, this is definitely not the kinder, gentler Reno and his performance truly stands out.
Other notable Jean Reno performances: La Femme Nikita (Luc Besson, 1990, France), Leon: The Professional (Luc Besson, 1994, France), The Crimson Rivers (Mathieu Kassovitz, 2000, France).
Ashraf Barhom as Col. Faris Al Ghazi in The Kingdom (Peter Berg, 2007, USA):
This is another inexplicably overlooked piece of acting as Barhom turns in an outstanding performance as the military liaison working with a team of American agents in the aftermath of a terrorist bombing. Had the film been a bigger financial hit, I think we would have heard a lot more about Barhom's excellent acting. It is then truly painful to watch Barhom criminally wasted in a small comic relief role in Louis Leterrier's incredibly unremarkable Clash Of The Titans (2010, USA).
Mark Strong as Hani in Body Of Lies (Ridley Scott, 2009, USA):
Quite simply, Strong's acting as the head of the Jordanian Intelligence Service is the reason to see this film. After Body of Lies, Strong was cast in a number of high-profile projects including Sherlock Holmes (Guy Ritchie, 2009, UK) and Green Lantern (Martin Campbell, 2011, USA) but this remains his best film performance so far. You'll be hearing a lot more from Mark Strong.
Other notable Mark Strong performances: Tinker Tailor Soldier Spy (Tomas Alfredson, 2011, UK/France).
Jackie Earle Haley as Walter Kovacs/Rorschach in Watchmen (Zack Snyder, 2009, USA):
Haley, a Best Supporting Actor Academy Award nominee and rightfully so for his unforgettable performance as a child molester in Little Children (Todd Field, 2006, USA), brings a very famous graphic novel character to life with a great performance. For a true testament to Haley's talent, look at the flashback scene where Rorschach is listening to a child killer's confession. We hear Rorschach's breathing change and we feel the rage building up, all with the character's face completely covered by his mask. Other highlights include the jail cell face-off with an old enemy and the character's moving death scene at the end of the film. A long-time fan of the brilliant graphic novel, I was very interested in the casting choice for this role and Haley does a fantastic job with a complex character.
Other notable Jackie Earle Haley performances: Little Children (Todd Field, 2006, USA).
Jeffrey Dean Morgan as Edward Blake/The Comedian in Watchmen (Zack Snyder, 2009, USA):
Along with Rorschach, I've always looked at the role of The Comedian as being one of the most difficult to cast in a film version of the landmark graphic novel. Morgan, more known for his TV work at the time such as Grey's Anatomy and Supernatural, turns in an amazing, career-redefining performance in a role that could have easily turned into something one-dimensional or cartoonish in the hands of a lesser actor. This is by far Morgan's best film performance to date.
THE "ALMOST" LIST
****
The following is a list of performances that almost made the cut but didn't for various reasons. Still, they are all excellent performances that are worth your time to find or revisit.
Arthur Kennedy as Emerson Cole in Bend Of The River (Anthony Mann, 1952, USA).
John Saxon as Private Raymond Endore in War Hunt (Dennis Sander, 1962, USA).
Richard Boone as John Fain in Big Jake (George Sherman, 1971, USA).
Andrew Robinson as Scorpio in Dirty Harry (Don Siegel, 1971, USA).
Anthony Franciosa as Nick D'Salvio in Across 110th Street (Barry Shear, 1972, USA).
Cameron Mitchell as Quartz in The Midnight Man (Roland Kibbee, 1974, USA).
Brad Dourif as The Gemini Killer in The Exorcist III (William Peter Blatty, 1990, USA).
Laurence Fishburne as Jimmy Jump in The King Of New York (Abel Ferrara, 1990, USA).
Ed Harris as Frankie Flannery in STATE OF GRACE (Phil Joanou, 1990, USA).
Ted Levine as Jame Gumb in The Silence Of The Lambs (Jonathan Demme, 1991, USA).
Michael Wincott as Michael Korda in Metro (Thomas Carter, 1997, USA).
Robert Carlyle as Colqhoun in Ravenous (Antonia Bird, 1999, UK/USA).
Tom Cruise as Vincent in Collateral (Michael Mann, 2004, USA).
Garret Hedlund as Billy Darley in Death Sentence (James Wan, 2007, USA).
Min-Sik Choi as Kyung-chul in I Saw The Devil (Jee-woon Kim, 2010, South Korea).
****
THE " TOO SHORT" LIST
The following is a list of great supporting performances that simply don't have enough screen time in their respective films to justify a Best Supporting Actor Academy Award nomination. These performances should still be sought out by anyone looking for some truly excellent film acting.
Christopher George as Nelse Mcleod in el Dorado (Howard Hawks, 1966, USA).
Gary Oldman as Drexl Spivey in True Romance (Tony Scott, 1993, USA).
John Cleese as Professor Waldman in Frankenstein (Kenneth Branagh, 1994, USA).
Kevin Gage as Waingro in Heat (Michael Mann, 1995, USA).
Anthony Franciosa as Paul Zapatti in City Hall (Harold Becker, 1996, USA).
Michael Parks as Earl McGraw in From Dusk Till Dawn (Robert Rodriguez, 1996, USA).
THOMAS JANE as Todd Parker in BOOGIE NIGHTS (Paul Thomas Anderson, 1997, USA).
Ian Mcshane as Teddy Bass in Sexy Beast (Jonathan Glazer, 2000, UK).
David Thornton as Jimmy Palumbo in John Q (Nick Cassavetes, 2002, USA).
John Ortiz as Jose Yero in Miami Vice (Michael Mann, 2006, USA).
August Diehl as Major Hellstrom in Inglourious Basterds (Quentin Tarantino, 2009, USA).
Michael Fassbender as Lt. Archie Hicox in Inglourious Basterds (Quentin Tarantino, 2009, USA).
– Terek Puckett