Nicol Williamson as Merlin in Excalibur (John Boorman, 1981, UK):
Turning in by far the best acting in Boorman's epic, Williamson sets the bar for all other interpretations of the Merlin character. Best known as an acclaimed stage actor with a history of incredibly unprofessional behavior, this is Williamson's most memorable film role and will have you chanting the "charm of making" in no time.
Rutger Hauer as Roy Batty in Blade Runner (Ridley Scott, 1982, USA):
As an android seeking to prolong his short life, Hauer's unique screen presence is perfectly utilized in director Scott's atmospheric science fiction milestone. Hauer brings a sort of "alien" quality to the character Roy Batty and really makes this role a truly superior piece of casting.
Other notable Rutger Hauer performances: Nighthawks (Bruce Malmuth, 1981, USA), The Hitcher (Robert Harmon, 1986, USA).
Ricardo Montalban as Khan in Star Trek II: The Wrath Of Khan (Nicholas Meyer, 1982, USA):
Montalban, reprising his role as a genetically engineered warrior from the classic "SPACE SEED" episode of the original Star Trek series, hits it out of the park with this charismatic performance, creating one of the greatest screen villains of all time. An Emmy winner for How The West Was Won and more widely known for his TV work such as Fantasy Island, I've always considered Montalban, despite his very long career, an underrated actor. Seek out his work in the Gunsmoke episode "CHATO" for one his outstanding small screen performances. His Khan is an amazing cinematic creation and the actor's finest film performance.
M. Emmet Walsh as Loren Visser in Blood Simple (Joel Coen, 1984, USA):
Usually relegated to smaller roles, veteran character actor Walsh shines as a murderous private detective in this modern film noir set in Texas. The film was the Coen Brothers' first feature and it's that fact that usually overshadows any conversation about the acting in the film. While Blood Simple is solidly played across the board, it's Walsh's lethal character that truly stands out here.
Other notable M. Emmett Walsh performances: Straight Time (Ulu Grosbard, 1978, USA), Blade Runner (Ridley Scott, 1982, USA).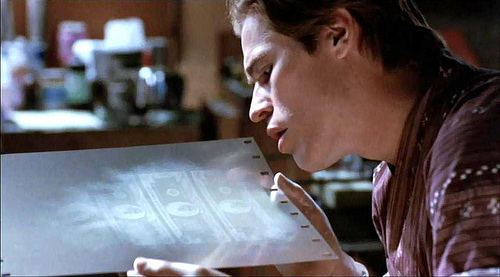 Willem Dafoe as Rick Masters in To Live And Die In L.A. (William Friedkin, 1985, USA):
Dafoe, a Best Supporting Actor Academy Award nominee for Oliver Stone's Platoon (1986, USA) and E. Elias Merhige's Shadow of the Vampire (2000, USA), turns in one of his best performances as a deadly counterfeiter recklessly pursued by a pair of FBI agents in director Friedkin's last (to date) outstanding film. Dafoe's critically neglected acting in this film is in fact far more memorable than his performance in Shadow of the Vampire.
Other notable Willem Dafoe performances: Platoon (Oliver Stone, 1986, USA), Wild at Heart (David Lynch, 1990, USA).
Chris Sarandon as Jerry Dandrige in Fright Night (Tom Holland, 1985, USA):
Sarandon, a Best Supporting Actor Academy Award nominee for Dog Day Afternoon (Sidney Lumet, 1975, USA) turns in one of his career highlights as the charming and deadly next door neighbor in Tom Holland's goofy but highly entertaining slice of 80's horror comedy. All respect to Colin Farrell, who portrays the Sarandon role in pointless remake, but there is only one Jerry Dandrige.
Other notable Chris Sarandon performances: Dog Day Afternoon (Sidney Lumet, 1975, USA).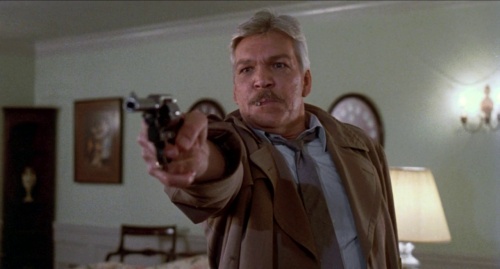 Tom Atkins as Ray Cameron in Night of the Creeps (Fred Dekker, 1986, USA):
There was no chance in hell that this cult favorite was going to get any real critical attention in its day but Tom Atkins' performance as a haunted police detective is reason enough to seek out this very uneven horror comedy. Atkins, an underrated actor, tackles both the humor of the role ("It's Miller time", etc.) and its unexpected and surprisingly effective dramatic side (the speech about his murdered girlfriend) with equal success, creating a great character that is far and away the best part of the film.
Other notable Tom Atkins performances: Halloween III: Season of the Witch (Tommy Lee Wallace, 1982, USA), Lethal Weapon (Richard Donner, 1987, USA), Maniac Cop (William Lustig, 1988, USA).
John Glover as Alan Raimy in 52 Pick-Up (John Frankenheimer, 1986, USA):
Glover turns in his finest big screen work as a lethal blackmailer in director Frankenheimer's sleazy and very entertaining adaptation of the Elmore Leonard novel. Clarence Williams III and Robert Trebor are very good as his partners in crime but it's Glover who steals the show. While he is best known on the small screen as Lionel Luthor on Smallville, seek out the Law & Order: Criminal Intent episodes "BLIND SPOT" and "FRAME" to catch Glover's brilliant portrayal of aging criminal profiler Declan Gage.
Dennis Hopper as Frank Booth in Blue Velvet (David Lynch, 1986, USA):
Hopper was Oscar- nominated for Best Supporting Actor in this film year for David Anspaugh's Hoosiers (USA) but the nomination was widely thought to have been heavily informed by his unforgettable (and highly quotable) performance as the deranged kidnapper in Lynch's film. This recalls the Jeremy Irons Best Actor Oscar win for Barbet Schroeder's Reversal of Fortune (1990, USA), largely thought to have been a delayed rewarding of his incredibly subtle and impressive dual role in David Cronenberg's Dead Ringers (1988, Canada), a film clearly too dark for the Academy's tastes. That said, Frank Booth is Hopper's finest screen creation.
Other notable Dennis Hopper performances: Apocalypse Now (Francis Ford Coppola, 1979, USA), True Romance (Tony Scott, 1993, USA).