A newer Netflix series, Sweet Magnolias reminds me of a cross between Sex and the City and Designing Women but with a major sweetness vibe. In other words, Netflix's 'Sweet Magnolias' is a great show for the whole family since there are no sex scenes.
Sweet Magnolias was developed by Sheryl J. Anderson as a streaming television series that is based on the book by the same name written by author Sherryl Woods. The Sweet Magnolias books are a hit, hence spurring the idea for the Sweet Magnolias series. The executive producer, along with showrunner Sheryl Anderson, is Dan Paulson of Daniel L. Paulson Production, who is produced several other TV shows.
The series, just like the book series is set in the small southern town of Serenity, South Carolina, and centers around three women who have been best friends since they were kids as they navigate their lives and help each other along with way through situations involving their romances, families, and careers.
JoAnna Garcia Swisher plays Maddie Townsend who is separated from her husband in trying to rejoin the workforce while navigating her divorce. Her husband's name is Bill Townsend and the role is played by Chris Klein. In the series, he is a doctor at Serenity Family Physicians. Logan Allen stars as the couple's son, Kyle Townsend, who has a knack for acting and is still in high school but has a crush on Annie, played by Anneliese Judge, a freshman at Serenity High School with a talent for acting.
He has a crush on Annie Sullivan, a photographer, who has no idea Kyle has feelings for her and actually recently developed a crush on his older brother Tyler, played by Carson Rowland and the oldest kid of Maddie and Bill. His character is a star pitcher as part of his high school's baseball team and Annie kissed him on prom night while hoping for a romance with him.
Brooke Elliott plays the role of chef Dana Sue Sullivan. She owns a restaurant, Sullivan's, and best friends with Maddie and Helen. Helen Decatur, played by Heather Headley, is a very accomplished attorney who recently purchased a mansion that she is planning on converting into space with her friends Maddie and Dana Sue called The Corner Spa.
Justin Bruening plays the role of Cal Maddox, also known as Coach Maddox, who is Tyler's baseball coach. He used to be a professional baseball player and is Maddie's new love interest. The famous former Nickelodeon star and sister of pop music queen, Britney Spears, Jamie Lynn Spears has joined the cast of Sweet Magnolias as Noreen Fitzgibbons. She is pregnant by Bill after having an affair with him while working as a medical assistant at his office. She is now his fiancé.
Helen, Maddie, and Dana Sue make up the group of friends they have dubbed the Sweet Magnolias who drink sweet tea, gossip, and make midnight promises to each other in this charming small-town atmosphere. They even have a margarita night. This romantic drama is like a Hallmark movie on steroids and appeals to a lot of people of all ages.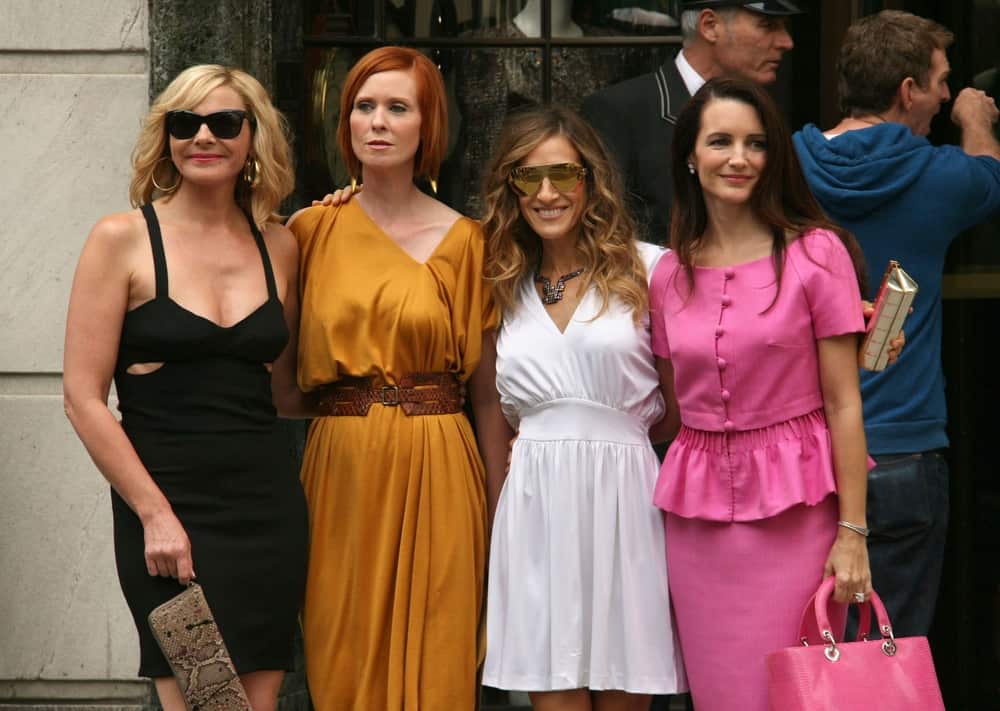 So yes, these three friends and their interactions with each other remind me a lot of Charlotte, Miranda, Samantha, and Carrie of the Sex and the City fame but not as sexually focused. The show, much like the books, is more focused on the characters and their development and interactions with each other, as well as their bonds with each other, then it is plot-driven.
This means if you like a lot of cliffhangers and a lot of drama, this may not be your Cup of tea. If you like to watch the interactions of people and how their lives intertwine, then this would definitely be a series you will want to binge-watch since it was picked up in July of 2020 for a second season which is airing now.
The show has a ton of entertainment value and the characters become very familiar to you after only watching an episode or two. In the hard times, we have all been through recently due to the pandemic, it's a sweet escape from reality.
It is a great example of friendship and what those friendships can look like, especially over time in the ways they evolve. It offers an amazing amount of southern charm and a look at how each woman deals with each other as well as the various crisis in their life while maintaining a strong friendship.
These women and their friendship reminded me a lot of the friendship I have with my friends in the special bond we share, along with all the secrets. It is a fun and exciting show to fill the time and provide an escape.
Parents can take solace in knowing that Sweet Magnolias is a very sweet, endearing series since the main characters are strong, intelligent, and positive role models for our younger generation. They are not afraid to admit shame and become vulnerable to various situations and are open to different solutions to their problems. The problems that they face are a lot like the ones we all do so it is very realistic and the characters freely express their emotions to each different scenario which is always a good characteristic of a role model.
The characters also show plenty of compassion and empathy for others which is so very important in today's world for our younger people to learn about and facilitate in themselves. There is no nudity, although there is some strong language used and some amount of flirting and kissing among adults. There is not much violence except there was one scene in which a man punched another man outside of a restaurant.
There are plenty of lessons on morality sprinkled throughout each episode which is also a great characteristic of a streaming television series. From scenes that include catching fireflies to sitting around talking over glasses of wine, this Netflix original is pretty good but does have some drawbacks which are true of all television shows.
So if you ask me, and you did not but I will give you my opinion anyway, the Sweet Magnolia show is one that you should watch while sitting and relaxing with a cup of tea or a margarita.
FAQs About Sweet Magnolias
Where is Sweet Magnolias filmed at?
The show is filmed in the city of Covington, Georgia, just outside of Atlanta. Many of the houses shown in the series may look very familiar to many people because other movies and TV shows have been filmed there, including, "In the Heat of the Night," and "Vampire Diaries."
Does the Sweet Magnolia series follow the books?
The Sweet Magnolias Netflix series is based on the book series by romance novelist Sheryl Woods that includes a total of 11 books. The first one, Stealing Home, was released in 2007 while the last one was released in 2014. The TV streaming series draws quite a bit directly from the books.
How many seasons of Sweet Magnolias are currently on Netflix?
The series premiered in May of 2020 and because it quickly became the most-watched series on Netflix right away, it was picked up for a second season in July of 2020. The stars of the series headed back to Georgia in March of 2021 to begin filming which had been pushed back due to the COVID-19 pandemic. Fans can look forward to taking in the second season very soon.