Written and directed by Gareth Evans
Indonesia, 2014
The first reaction to Gareth Evans' highly anticipated sequel to his blistering 2012 action movie is to complain to the Advertising Standards Authority. Despite the title's implication, there is no specific raid here, at least not upon a single, individual location, a design mandated by the first film's budgetary restrictions, which proved to be its central narrative triumph. Following on a mere 2 hours from the first film's claustrophobic chaos, The Raid 2 continues the Olympian odyssey of compromised supercop Rama (Iko Uwais) as he is reluctantly recruited to a shadowy special task force led by his superior Bunawar (Cok Simbara). The corrupt city of Jakarta is afflicted with an indistinguishable line between good guys and bad guys, and has been carved into two via an uncertain truce between the Japanese yakuza headed by the Goto clan (Kenichi Endo) and the slightly acquiescent Bangun (Tio Pakusadewo), the patriarch of the indigenous Indonesian crime syndicate. Following one of the de rigueur oedipal crime movie dynamics, Bangun's son Uco (Putra Keiichi) is quietly disgusted at his father's acquiescence to these foreign interlopers and slowly engineers his route to the throne, his primary obstacle being the similarly ambitious Keiichi (Ryuhei Matsuda), Goto's first son who harbours similar ambitions. Sensing a vulnerable crack in the syndicates' armour, Rama is dispatched to infiltrate the Bangun clan, become an enforcer to their sect after meeting and bonding with Uco during a prison stretch, and whilst working within their operation, seize evidence to bring both houses toppling down.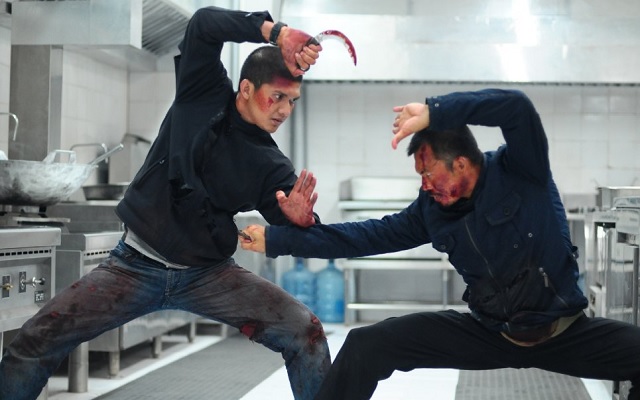 Talk about your difficult second movie syndrome. The blocks to unadorned admiration of this film rest upon Evans' expanded palette and resources. Whilst the first film reveled in concentrated carnage, the plot moving effortlessly through vicious encounters and bone-crunching set-pieces story-wise, The Raid 2 is simply too diffuse and scattered, like a indiscriminate and frantic exchange of long-range shotgun fire. The crime story is languid and has been beaten to death throughout Asian combat cinema for the past few decades, and certain scenes exhaust patience by meandering beyond the point of efficiency; at 2 and a half hours, The Raid 2 could clearly benefit from a kitano-cleaved haircut. The trope of psychopathic insurgent siblings is handled in a perfunctory manner, bringing no new thrills to the table; other irrelevant subplots stretch and prepare on the sidelines, distracting the focus from Rama's core mission, diluting the investment once the final showdown occurs.
These punch-drunk stumbles are unlikely to bother the targeted audience, who will flock to the film, hungry for more dexterously executed bone-crunching ballets. It's in these moments that the strikes land and land hard. Moving away from plot conventions, The Raid 2 is breathless, mainlined adrenaline just like its predecessor, with a blizzard of knock-out set-pieces and mischievous melees, aided by the creation of a few memorable characters who seem destined to blast their way into the action movie hall of fame. There's the dual hammer-wielding Alicia (Julia Estelle) and her baseball-bat bruiser brother (Very Tri Yulisman, complete with shades of The Warriors gang the Baseball Furies). Although the entire campaign can stretch patience, the film's crescendo is nothing short of astonishing, a jaw-dropping final 45 minutes of the most devastating action choreography seen in this violent new century. Obliterating the handy-cam incoherence of the Bourne ideology, Evans stages his exacting orchestrations (each fight shoot took at least 10 to 12 12-hour-days to assemble) with a vigorous sense of spatial clarity and an ingenious deployment of sharp-edged environments, shattering props, and a definitive sense of action as character. Our hero's ingenuity and perseverance inspires gasps, applause, and cheers.
Within this chaotic celluloid playground, there is a sense of Evans giggling alongside his cruel compatriots Gasper Noe and Nicholas Winding Refn at just how far they can push violence in their films; in a couple of wince-inducing moments, the gauntlet seems to have been hurled further down the road of deliberate antagonism. Evans is courting two new projects while inevitably developing The Raid 3, which is said to begin 3 hours before the engineered cliff-hanger of this film. If he can curb his octopus plotting, he may set the series back on its tension shredding track. For now, The Raid 2 will sate action fans' thirst for new thrills and spills.
— John McEntee
[wpchatai]