Ever since I launched Sound On Sight back in 2008, I've seen an average of 150 new releases each year, and every year since, I've been able to easily draft up a list of my fifty favourite films. In fact, there were so many great movies released in 2011, I have a list of 75 I feel worth recommending. They say they don't make movies like they used to and they don't – they in some ways make it better. 2012 is already lining up to be a banner year and some of my favourite filmmakers are back, including Quentin Tarantino, The Coen Brothers, P.T. Anderson, Wong Kar Wai and even Steven Soderbergh.
11- World War Z
World War Z is an upcoming post-apocalyptic horror film based on the best selling novel of the same name by Max Brooks, son of Mel Brooks. The film is directed by Marc Forster and stars Brad Pitt, with a script written by J. Michael Straczynski and Matthew Michael Carnahan.
I just started reading the book and needless to say it's a real page turner. It will be interesting to see if the filmmakers keep the same structure since the book is an assortment of individual accounts in the form of interviews of different characters. Marc Forster and Paramount Pictures told the Los Angeles Times that they "each view World War Z as a trilogy that would have the grounded, gun-metal realism of the Bourne series tethered to the unsettling end-times vibe of AMC's The Walking Dead". Blending those two series sounds pretty amazing from my point of view.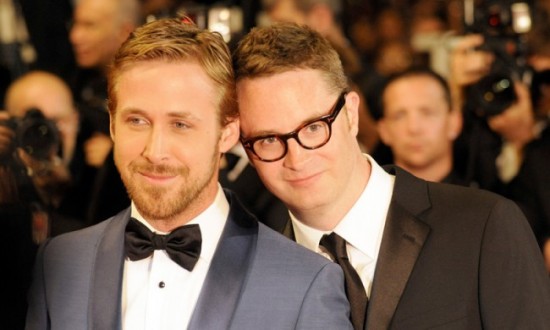 12- Only God Forgives
I've been a fan of Nicolas Winding Refn since I saw Pusher back in 1997, and ever since, the Danish director hasn't disappointed. We raved about Bronson back in episode 152 of the Sound On Sight podcast and Drive recently made my top 10 films of 2011. Reuniting once again with Ryan Gosling, Only God Forgives is described as a western set in Thailand that follows a man who runs a Thai boxing club in Bangkok and is running away from British authorities when getting involved in a drug smuggling operation. Anyone who's seen the Pusher trilogy knows that Refn is the perfect director for a film about the criminal underworld.
Synopsis: A gangster (Ryan Gosling) lives in exile in Bangkok where he runs a Thai boxing club as a front for his family's drug smuggling operation. After his brother is killed by a retired Thai police lieutenant, his mother (Kristin Scott Thomas) forces him to track him down and seek revenge.
13- The Master

One of my favorite working directors (and one of the most celebrated American filmmakers around), Paul Thomas Anderson returns with only his sixth film, after his masterpiece There Will Be Blood. Focusing on another eccentric, power-hungry individual, The Master is reportedly based loosely on the life of L. Ron Hubbard and his founding of the Church of Scientology. His latest reteams the director with Phillip Seymour Hoffman and will also star Joaquin Phoenix, who thankfully is back from his false retirement. I'm such a huge fan of the director that The Master might just be my most anticipated film of 2012.

Synopsis: After returning home from WWII, a charismatic intellectual (Philip Seymour Hoffman) launches a faith-based organization and taps a young drifter (Joaquin Phoenix) as his right-hand man.

–


14- Looper

I've been a huge fan of Rian Johnson ever since he released his first film, the neo-noir high-school-set Brick. And despite polarizing views, I rather enjoyed his follow-up, the con-man caper The Brothers Bloom. His third film Looper stars one of my favourite actors, Joseph Gordon-Levitt, and follows a topic I happen to love: time travel. It will be interesting to see a director like Johnson, who straddles the mainstream and art-house, put a spin on the genre. Even more, Johnson hired Primer filmmaker Shane Carruth as a visual consultant. If you haven't seen Primer, then you should, considering it is one of the greatest (if not greatest) time travel movies ever made (and for no more than $8000, no less). Bruce Willis, Emily Blunt, Jeff Daniels, Piper Perabo, Paul Dano and Garret Dillahunt round up the rest of the main cast.

Synopsis: In a future where time travel exists, but is outlawed, hitmen are enlisted to eliminate mob targets sent back from even further in the future, so as to leave no bodies then. However, the system falls apart when Joe (Joseph Gordon-Levitt) fails to pull the trigger on his older self (played by Bruce Willis).

15- Cosmopolis

While P.T. Anderson may be my favourite American filmmaker working today, David Cronenberg is not only my favourite Canadian filmmaker, but is somewhere on my list of my ten favourite directors of all time. The man has only made one film that I did not like (guess which one) and I'd easily place about five of his films on my top 100. Here Cronenberg adapts a critically revered and best-selling novel and places teen heartthrob Robert Pattinson at the centre, as a newlywed billionaire who ends up losing his bride and his billions in a single day. A bunch of Cronenberg's favourite themes are explored, including man's relationship with modern technology, murder and yes, sexual obsession. Apart from Pattinson, the impressive cast also includes Sarah Gadon, Kevin Durand, Jay Baruchel, Samantha Morton, Juliette Binoche, Paul Giamatti, and Mathieu Amalric.

Synopsis: Based on the novel by American author Don DeLillo, it centers on Eric Packer (Robert Pattinson), a young multi-billionaire making an epic, ultimately doomed limo ride across New York City.

16- Prometheus

I'm not entirely sure if Prometheus is a prequel to Alien or not, since the director and screenwriter can't even seem to agree themselves. What's really important however is that Ridley Scott is getting back to his roots after taking a serious hiatus from science-fiction. The film stars Michael Fassbender (without a doubt the best actor of 2011) as an android, Noomi Rapace as a doctor (akin to Sigourney Weaver's character Ripley), and Charlize Theron as the semi-villainous corporate figure. Apart from the fabulous cast, a great premise, and an A-list director, Prometheus also boasted the best trailer of 2011.

17- The Hobbit: An Unexpected Journey

I'm keeping my expectations low for The Hobbit since I don't think it can match the brilliance of the origianl trilogy, but I would be lying if I said I wasn't somewhat excited. Peter Jackson returns as director of the film and also serves as producer and co-writer. The cast is out of control, starring Martin Freeman as Bilbo Baggins, Richard Armitage as Thorin Oakenshield and Benedict Cumberbatch as Smaug. Several actors from The Lord of the Rings will reprise their roles, including Ian McKellen, Andy Serkis, Hugo Weaving, Cate Blanchett, Christopher Lee, Ian Holm, Elijah Wood and Orlando Bloom. Also returning for the production are a big part of the production crew; among others, illustrators John Howe and Alan Lee, art director Dan Hennah and cinematographer Andrew Lesnie. As with the trilogy, props will generally be crafted by Weta Workshop and visual effects managed by Weta Digital. Additionally, composer Howard Shore, who wrote the score for The Lord of the Rings film trilogy, has confirmed his role in both parts of the film project. In other words, with just about everyone back in the game, I don't see how they could possibly do wrong?

Synopsis: In the first of a two-part prequel to The Lord of the Rings, Bilbo Baggins relates an early journey with Gandalf and a pack of unruly dwarves to steal a horde of treasure from the dragon Smaug.


18- Argo

Argo is the new film directed by Ben Affleck. Following the critically acclaimed Gone Baby Gone and The Town won't be an easy task but Affleck's proven himself more than capable a filmmaker. This man has some serious talent both behind and in front of the camera. If Argo proves to be as engaging and well crafted as his previous two films, Affleck may be Hollywood's future Eastwood. The cast is fantastic. Affleck assembled a respected ensemble, including Alan Arkin, Bryan Cranston, Kyle Chandler, Tate Donovan, Titus Welliver, Clea DuVall, Adrienne Barbeau, John Goodman, Michael Parks and Kerry Bishé.

Synopsis: Based on a true story, in which a CIA operative (Ben Affleck) hatched a plan to extract a group of American diplomats from Tehran in the midst of 1979's Iranian hostage crisis, using the filming of a fake movie as their cover.

19- Magic Mike

Steven Soderbergh has another two films set for release in 2012. Hopefully this man will never retire since he doesn't make bad movies. His last, Contagion, made our staff's list of the 30 best films of 2011 and along with Magic Mike, everyone here at S.O.S. is excited for Haywire. Mike is Soderbergh's Showgirls, only about male strippers instead. While the prolific filmmaker threatens us with retirement, every film he directs will be cherished even more so with hopes that he'll change his mind and continue with his filmmaker career. The film is supposedly based on Channing Tatum's own early life story when he worked as a male stripper. The cast is great, and apart from Tatum it includes Matthew McConaughey, Joe Manganiello, Olivia Munn and Matt Bomer. Either Magic Mike will be a box office success or a box office bomb, but I'm betting on the former, not the latter result.

Synopsis: A young male stripper is taken under the wing of his older coworkers.

20- Untitled Spike Jonze / Charlie Kaufman Project

Spike Jonze teams up with Charlie Kaufman again for what is described as a Dr. Strangelove-style satire. Not much is known about the film since they are keeping details tightly under the wraps, but as I am a huge fan of both Jonze and Kaufman, I expect great things.

Synopsis: A satire about a gathering of world leaders as they plan a series of world-changing events, from wars to shifting oil prices.
[wpchatai]