Finding old and classic cars as shown in movies depends on your needs and how much money you want to spend. I wouldn't have the budget or space to buy new cars, so I'd probably either buy them used from a private seller or rent them.
Importance of Choosing The Right Cars
You must choose the right cars to portray your characters in the way you want your audience to see them. For instance, a mother in her 40s with four children might drive a minivan, but a teenager who just graduated from college might have a vintage sports car.
Besides choosing the right car for your characters, you must make sure you pick the right makes, models and years to match the decade of your movie setting. Of course, movies like Back to the Future or any movie featuring used instead of new cars may be the exception.
If your film has quite a few chase scenes in it, your viewers must believe in the vehicle's capabilities when they watch your action reels. I think of the Fast and the Furious series when this comes to mind or the movie Speed, which features a hijacked bus. Other films, such as The Hunger Games may feature combat jeeps and military vehicles, so it doesn't just have to involve cars.
Where does Hollywood get their cars?
Los Angeles often acquires their movie cars from Cinema Vehicles, which has supplied and customized vehicles for the film industry for about 40 years. They also provide them for TV episodes and commercial advertisements. Famous cars sold to film and TV producers include ones for American Wedding, The Dark Knight Rises, Die Hard, Escape, and more.
Where do New York producers get their cars?
Some New York producers find their cars at the Auto Film Club in Staten Island, New York, a company in business for about 43 years as of 2020. CEO Max Lucci says that they rent, modify, and acquire vehicles. They supplied cars for "Men in Black," "Spiderman," "Gotham," "The Americans," and more.
This company may have moved or changed its name by 2022, however. There's another supplier with a similar name called Staten Island Film Locations that refers people to a rental car place. They also make movie sets.
Other Ways To Get Movie Cars
If you're making a local movie, you might have the chance to collaborate with other actors and production staff. Maybe they can use their own cars. If vehicles used are not for crash scenes, project participants might not mind. For large, A-list productions, you might need to think "bigger" though.
Salvage Yards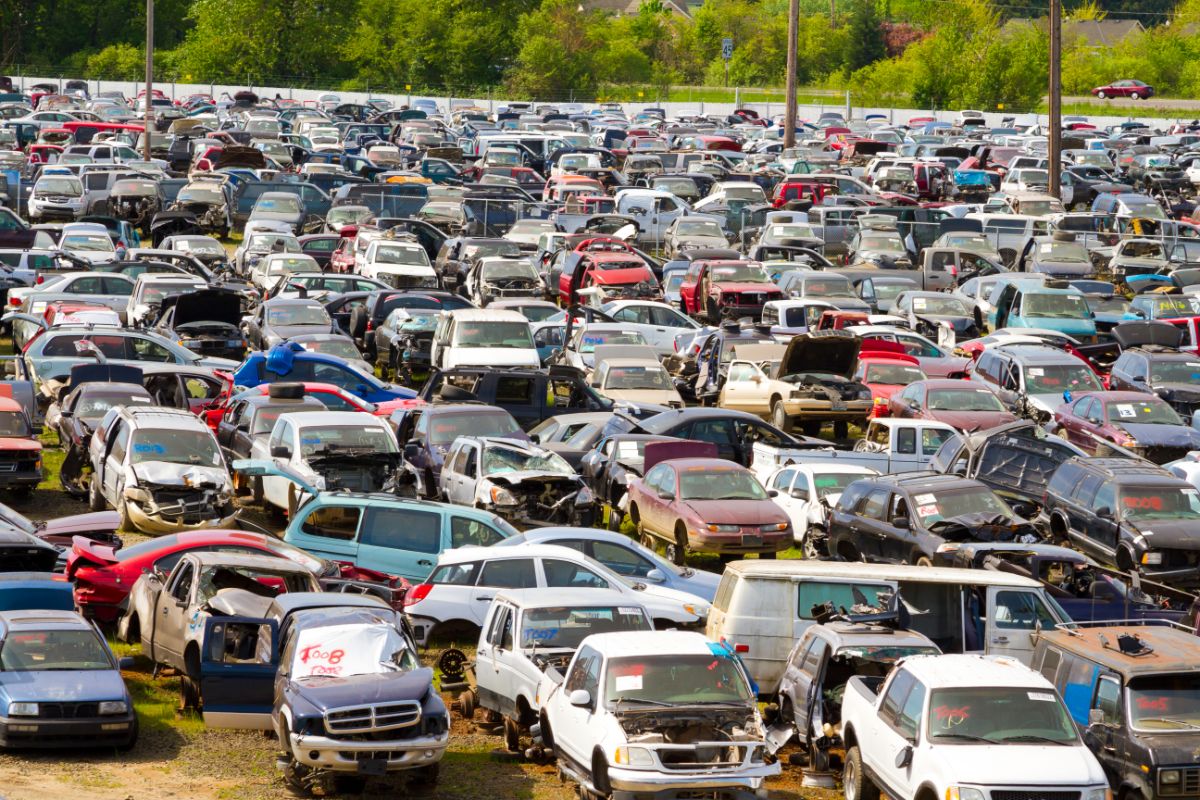 Think of salvage or "junk" yards as a place to find "extras," only your "extras" in this case are "props." You could save quite a bit of money if you purchase inoperable vehicles that still have a presentable exterior.
For instance, you may not need all your cars to run, but you do need stationary cars for a parking lot, street or driveway scene. Moreover, you could have them towed on set to use for mechanic shop props or car dealership scenes.
Used Car Lots
Some used cars at lots may cost more than if you were to buy one through a private owner. However, you have a better chance of accessing one that performs at least well enough to see you through your film project completion. I might check them out if I were to need them for media production, but I might instead rent if I only need the automobile for a few scenes.
Car Rental Companies
If you don't have the space to keep your film vehicle inventory on hand, this would work the best for you. Just rent or lease the vehicle for as long as you need it. Then, return it when you completed your movie film project unless you totaled it in a car crash scene or started it on fire.
Car Shows
Usually, you won't find cars for sale at a show. However, you might end up with several business cards from collectible and classic car enthusiasts. They probably know where to find cars you need from the model years you want to represent, and they might have insight on how to have vehicles customized to replicate an earlier car model even if made within the past few years.
Online Auction and E-commerce Sites
Auction sites, such as Ebay or Hotcars have them for bid or for immediate purchase. Amazon also allows you to buy them outright name a few places where you might find them.
In addition, you might find ways to buy cars either seized by the bank or confiscated by law enforcement. In doing so, you must make sure the vehicles are cleared for sale and that you're not purchasing a stolen one.
Local, Private Listings
You might see private antique car listings in online classified ads or listed in social media marketplaces. Some of these sellers might live near you. They also sometimes appear at local yard sales or in parking lots where you shop, eat and run errands. It's another cheap way to acquire cars if you don't need them for very long.
A Film Industry Car Dealer's Role
As an Agent
A film industry car dealer often acts as an agent. For instance, they might receive calls from movie, TV and theater prop masters requesting cars for period pieces. If they don't have the car in their lot, they might order it for a media production company or act as a liaison between private sellers and film companies that want to buy them.
As a Customizer
Sometimes, movie producers want cars for stunts. In fact, it surprised me how much work mechanics might put into a vehicle to rig it for a movie set – not even for use in real life.
It's because a film may require several identical vehicles to accommodate for multiple takes during rehearsals. This happens when practicing crashes, fire or high-speed chase scenes if you damage the vehicle after the first use.
Besides preparing for collisions, mechanics might also make a car burn rubber or get it ready to flip without injuring stun personnel. For instance, car dealers that prepare vehicles for movie and film shots might hallow it out, so it's not as heavy to flip during a rollover scene.
For safety, cars used for stunts might have rollover cages for when they flip. If the vehicle doesn't already have them, body shop specialists might work on constructing one for vehicles used in movies. Customizers also might convert an off-road consumer jeep if you don't have the budget for a "real" one from the military.
[wpchatai]