2015 saw the start (or at least official dubbing) of #PeakTV, a recognition of the wealth of excellent television available to fans of the medium. This is reflected in PopOptiq's staff list for the year: While our site-wide list separated neatly into a consensus just-over Top 20, 50 separate series received votes. Series from each of the networks and a wide range of cable channels and streaming services were nominated, showing just how wide an array of viewing options are available, and the variety of topic, tone, and theme of the series comprising the list is truly refreshing. 2015 is the year the glut of quality television threatened to overwhelm even the biggest TV fans. Here are the 20+ that stood out to our staff.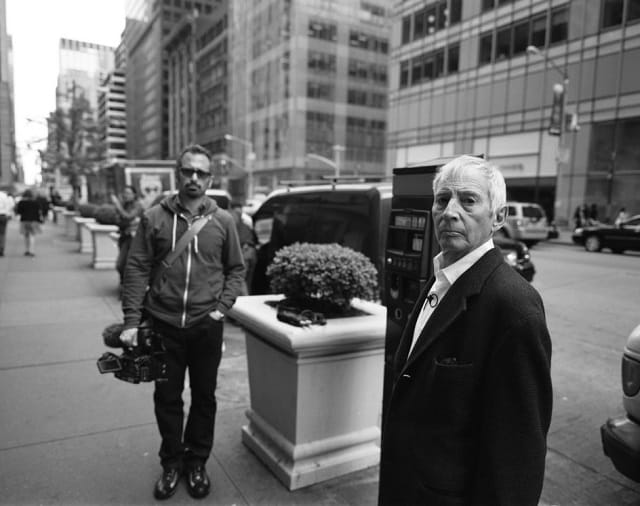 The Jinx: The Life and Deaths of Robert Durst (HBO)
Premiering in February, The Jinx captivated viewers with its at first cordial and eventually chilling portrait of Robert Durst, the real estate heir suspected but never convicted of three murders. The six episode documentary raised questions of journalistic ethics with its somewhat vague timeline, but it's the stunning, perhaps damning conclusion of the series that kept it in voters' minds at the end of the year. From the tempting relatability of Durst in the early episodes, carefully counterbalanced by the obvious weight still carried by those associated with these unresolved cases, to the stunning discovery of a seemingly crucial bit of evidence and its fallout in episodes five and six, The Jinx guided viewers expertly through one of 2015's most compelling narratives.
Chat Box - Go ahead, make my day and ask me questions about movies and TV shows...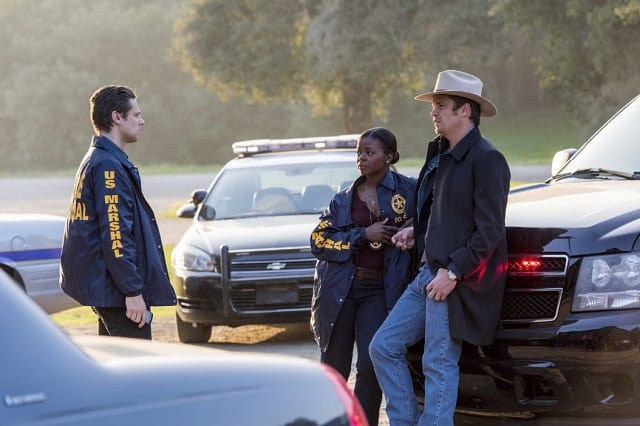 Justified (FX)
One of the most loquacious series on television, Justified wrapped up its run in 2015 with a strong, resurgent season that focused in on Raylan, Boyd, and Ava, giving viewers their first look at Ava's family and finally pitting Raylan directly against Boyd. Adding to the fun were a slew of guest stars, giving the central trio plenty to wrangle and reminding viewers of the scope and flavor of Harlan. In the end, though, Justified returned to its core relationship, the complicated bond between Raylan and Boyd summed up beautifully in the series' confident, thoughtful series finale.
The Flash (The CW) — tie
After debuting as one of 2014's best new network series, The Flash concluded its strong first season in 2015, going out with a bang as the series ripped a hole through the world and embraced the multi-verse. While the introduction of Earth 2, Jay Garrick, and the new Harry Wells in season two added intrigue, it's the series' continued focus on its core ensemble and their relationships that makes The Flash stand out, with one of television's best father-son dynamics in Barry and Joe and best supporting players in Cisco. The lighthearted energy of the series doesn't hurt either, and its embrace of sentimentality and eschewing of the dour, grim tone of far too many comic adaptations makes this one of the best superhero properties currently going, and one of 2015's best TV shows.
BoJack Horseman (Netflix) — tie
One of 2015's most thoughtful looks at depression and the meaning of happiness, BoJack Horseman season two saw BoJack grappling with success, both professionally and personally. His attempts to be a serious actor, playing Secretariat, were at turns hilarious and affecting and his relationship with Wanda and subsequent stay with Charlotte's family in New Mexico opened up new dynamics for the character. Throw in Mr. Peanutbutter's struggling relationship with Diane and the introduction of the J.D. Salinger-created and Mr. Peanutbutter-hosted Hollywoo Stars and Celebrities: What Do They Know? Do They Know Things?? Let's Find Out! and you have a fascinating, entertaining, and utterly unique season of television.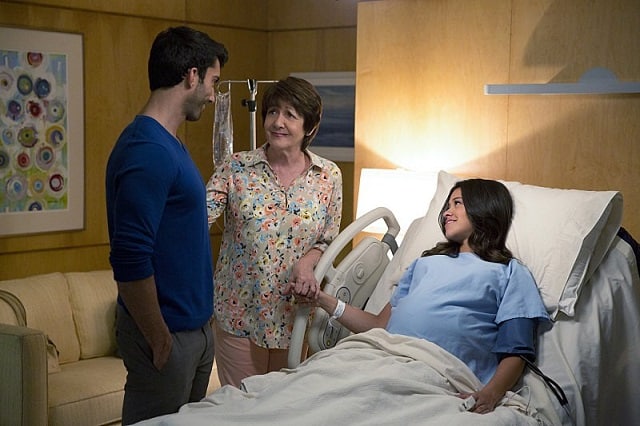 Jane the Virgin (The CW)
The fanciful, colorful, and yet always truthful Jane the Virgin is a remarkable achievement. Creator Jennie Snyder Urman balances seemingly disparate tones with aplomb, reveling in Jane's telenovela inspirations while providing some of the year's most heartfelt and moving moments. The show has one of TV's best ensembles, able to deftly pivot between comedy and drama at the drop of a hat, and makes excellent use of the wide-ranging possibilities of its premise. From its wonderful narration—a rarity on television—to its inventive intertitles, Jane the Virgin continues to find new creativity and depth, while tackling overlooked issues like immigration and young motherhood with tremendous heart.
Better Call Saul (AMC)
Billed as a prequel series to all-time great Breaking Bad, Better Call Saul surprised audiences by introducing them not to a young Saul Goodman, but to Jimmy McGill, a former con man turned lawyer struggling to scrape a living together while caring for his brilliant, but incapacitated brother, Chuck. While it shared the visual style and confidence of its predecessor, Saul quickly established its own personality and tone, focusing on Jimmy's doomed attempts to make good and be respected by his brother. With its excellent performances, writing, direction, and cinematography, Better Call Saul had a tremendous first season, making it one of the best series of 2015.
Parks and Recreation (NBC)
Bowing after seven seasons, Parks and Recreation went out well, jumping forward in time to show how Leslie Knope and company were faring in 2017. By skipping ahead and introducing a conflict between Leslie and Ron, whose relationship had long been the core of the series, Parks found new energy, confirming the ties between its characters and showing just how meaningful and long-lasting they were before sending everyone off into the sunset, paddling their canoe or enjoying retirement post-Presidency. Throughout its run, Parks and Recreation distinguished itself with its unabashed optimism and its championing of hard work by good people, staying true to this ethos throughout its delightfully funny, heartwarming final season.
Fargo (FX)
A prequel to the well-received freshman season of Fargo, 2015's sophomore season took inspiration from its '70s setting, exploring the fears of the time and the encroaching corporatization of American life. With a deep ensemble bench and intriguing extra-terrestrial flourishes, Fargo continued its run as one of television's most stylish and well-crafted series, exploring its characters while drawing them ever nearer the inevitable Massacre at Sioux Falls. From its gorgeous cinematography to its fantastic score and striking shot selection, Fargo looks and sounds like no other series on television, making it one of 2015's most memorable shows.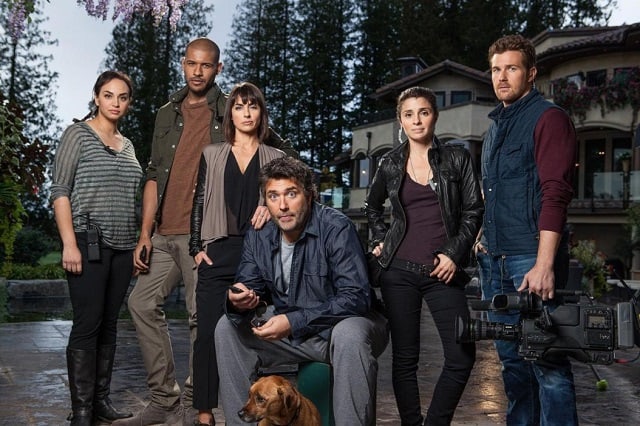 UnREAL (Lifetime)
A behind-the-scenes drama set at a The Bachelor-style reality dating show, UnREAL surprised many this year with its complex characterization and compelling storylines. Offering a glimpse into the production of reality television and the constant manipulation of contestants by producers looking to construct narratives, the series put Lifetime on the map for many viewers, as only its second original series. It's the dynamic between Rachel and Quinn, though, that makes the series so engrossing, the would-be idealist lured towards her more opportunistic instincts by her boss and mentor, a relationship unlike any other on television.
Unbreakable Kimmy Schmidt (Netflix)
A sparkling gem of optimism and feminism, Unbreakable Kimmy Schmidt is one of the most infectiously joyful series on television. Telling the story of Kimmy Schmidt, a kidnapping victim recently released after 14 years underground in a doomsday cult, the series is an empowering look at starting over and the resilience of the human spirit. There are plenty of dark tinges at the edges of the series and its lead character, but Unbreakable Kimmy Schmidt chooses to focus instead on Kimmy's decision to live life to the fullest, now that she has the freedom to do so, giving her tremendous agency and showing just how much strength lies within each of us.
Hannibal (NBC)
Gorgeous and ghoulish, Hannibal wrapped up its three season run this year, splitting its final season in half to dive into Hannibal's past and Will's present before jumping ahead in time to adapt Thomas Harris' popular Red Dragon. The season explored betrayal, forgiveness, compulsion, and love in all its forms, giving its talented cast fantastic material to work with and a long lead to its visually-minded directors. Paired with one of television's best scores and featuring some of the year's most viscerally satisfying and upsetting moments, Hannibal went out in style, as only it could.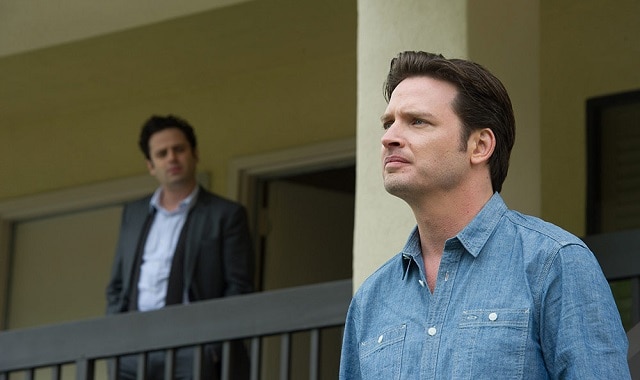 Rectify (SundanceTV)
One of television's most underseen gems, Rectify continued its thoughtful, patient approach to character this season with its most mature season yet. Daniel moving in with Amantha gave her and Janet their best material yet and Teddy Jr. and Tawney's struggling marriage, and Teddy Jr.'s self-reflection, opened up new sides to both characters. No series on television uses space and silence as powerfully, and frequently heartbreakingly, as Rectify, and yet it manages to still find beauty in life's small moments, be it a pool party, a box of donuts, or trip to the beach. With its startling intensity and emotionality, Rectify is without a doubt one of the best series of 2015.
Jessica Jones (Netflix)
The latest addition to Marvel's television empire, Jessica Jones took a different tack than its predecessors, downplaying its superheroes' abilities and instead focusing on their humanity. Far more than a simple story about a super-powered individual, Jessica Jones is a treatise on consent, rape and rape culture, and the lingering effects of abuse. Rather than averting the apocalypse, Jessica spends her season struggling to expose an abuser who society refuses to even believe exists, a foe with tremendous power who wields it not for world domination, but to control and feel loved by the object of his obsession. Her fight is not to save her life, but to be believed and to reclaim her power. It's groundbreaking storytelling for comic adaptations, and a fantastic entry in a year full of notable feminist television.
You're the Worst (FXX)
One of 2014's best new series, You're the Worst reached new levels of depth and power in 2015 by revealing that one of its leads, Gretchen, has clinical depression. Embracing this storyline and depicting how Gretchen is shaped by and struggles with her depression, and how this affects her boyfriend Jimmy, the series broke ground by refusing to offer a quick fix or tidy solution. As life became messier for Gretchen and Jimmy, Lindsay wrangled for the first time with having to be responsible for herself and Edgar discovered improv, as well as his first significant other on the show, the delightful and warm Dorothy. However, it's the series' respectful and insightful handling of Gretchen's arc this season that separates You're the Worst and makes it one of the most impressive achievements in 2015 TV.
Broad City (Comedy Central)
After a dynamite first season, Abbi and Ilana came back this year more confident than ever, with another season of hilarious and surprisingly moving adventures. From pegging to doppelgängers and self-love to citizenship, Broad City explored topics rarely discussed elsewhere on television with the show's typical open-mindedness and good humor. With a fantastic guest cast and two of the year's best musical moments—Abbi's triumphant "Edge of Gory" and Val's "Get Happy"—Broad City had a memorable sophomore season, cementing its place as one of television's best comedies of recent years.
Transparent (Amazon)
The second season of Transparent was a late addition to the 2015 landscape, but it made an immediate impression. The already gorgeously shot series got even more ambitious and experimental, paralleling the Pfefferman clan's latest struggles with those of Maura's mother Rose and her family in 1933 Berlin and giving Ali a glimpse through time and space at the young Rose. Maura and her family's relationships got more complicated, and then simpler, throughout the season, giving the talented ensemble a wealth of emotions to explore and more than enough memorable moments to earn its spot among the best television of the year.
Master of None (Netflix)
Aziz Ansari and Alan Young's new series for Netflix took a unique approach this year, presenting a new topic with each episode and then examining the issue from its creators' distinct perspectives. From parenthood to the immigrant experience to the contrast in women and men's experience of a moment, Master of None took a thoughtful, engaging look at topics easily brushed past elsewhere while developing its central characters and having fun along the way. Master of None's first season is an exciting debut from a talented creative team and one that promises even better television to come.
Review (Comedy Central)
Andy Daly's ode to self-destruction, Review came back with a vengeance this year, pushing Forrest MacNeil further from sanity as he sacrificed the positive relationships in his life to his deepening obsession with his decision to review life. The already challenging series found new lows for Forrest to merrily sink to before pushing him over the edge, convinced his potentially evil producer, Grant, had manipulated the show-within-the-show's review selection to force him into murder, a belief less devastating to Forrest than his taking ownership over his choices. It was a stunning and frequently hilarious season of television, and one that gave new life to the tired anti-hero genre by adapting the typically prestige drama narrative to a comedic, half-hour format.
Mad Men (AMC)
Mad Men came to a close in 2015, ending its acclaimed run by sending Don off on yet another journey of self-exploration. While Don struggled to redefine himself outside of his relationships with women, Joan and Peggy had breakthroughs of their own, Roger finally committed to his match, and Betty handled a devastating diagnosis with grace. Each character was given a considered send-off, with memorable moments galore, from Peggy and Roger's long overdue hang to Peggy's strut down to her new office to Don's captivated reaction to a stranger's dream. It was a surprising final half season, but a great one, with a final moment that perfectly captured the duality within Don and at the heart of the series.
Looking (HBO)
One of 2015's most thoughtful series, Looking built on the strong character work of its debut season to bring new life to Patrick, Dom, Augustin, and Doris as they tiptoed toward progress, searching inward and making the difficult choices necessary to bring themselves closer to happiness. The show is beautifully shot, well-acted, and satisfyingly structured, but it's the relaxed tone of the series that makes it stand out, a comfortable and comforting space in the often stressful time of #PeakTV. Fully aware that change is hard, but often crucial, Looking is one of the rare series on television to embrace the journey as worthwhile on its own, finding meaning in the path one takes and not necessarily in the destination.
The Americans (FX) — tie
The Americans came back with a vengeance in 2015, picking up where the previous season left off, with the Jennings' handlers pressuring them to prepare the teenaged Paige to join their ranks as spies. The conflict between Elizabeth and Philip over Paige's potential involvement drives the season and hangs over each scene of manipulation and violence, the unspoken question clear: Is this what they want for their daughter? The season took many twists and turns, from Paige demanding answers to Martha's pained discovery of Clarke's secret, but throughout focused not on story points, but the relationships driving them. Challenging, exhilarating, and intimate, The Americans showed once again this year why it is one of television's very best series.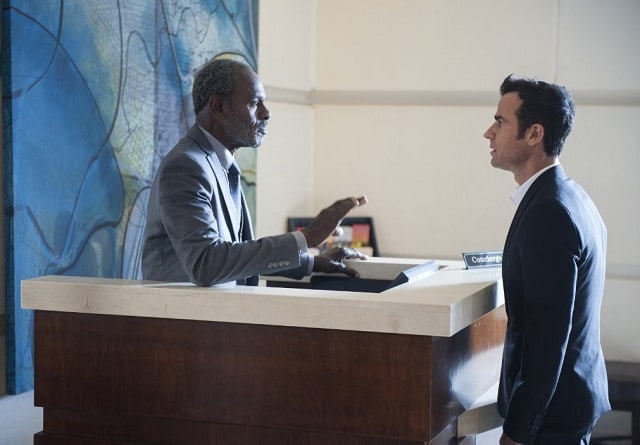 The Leftovers (HBO) — tie
A treatise on grief, recovery, and community, The Leftovers moved to a new setting this season and in doing so, reached new creative heights. Embracing the single-perspective format of its most affecting season one episodes, season two dove in deep with Kevin, Nora, their new neighbors Erika and John, and the rest of the main ensemble before opening up in episode nine to reveal a powerful and satisfying unifying thread to the season. The season doubled down on weird, sending Kevin to purgatory twice before having him karaoke his way home, and this creative, surprising approach added to the often otherworldly feel to the series, making it one of 2015's most inventive, singular, and affecting shows.
***
Also nominated: Manhattan (WGN America), Difficult People (Hulu), Deutschalnd 83 (SundanceTV), Rick and Morty (Adult Swim), Veep (HBO), iZombie (The CW), The Man in the High Castle (Amazon), Brooklyn Nine-Nine (Fox), The Good Wife (CBS), Other Space (Yahoo! Screen), Banana and Cucumber (LOGO), The Knick (Cinemax), Wet Hot American Summer: First Day of Camp (Netflix), Daredevil (Netflix), Steven Universe (Cartoon Network), Catastrophe (Channel 4), Crazy Ex-Girlfriend (The CW), 19-2 (Télévision de Radio-Canada), Gotham (Fox), Key & Peele (Comedy Central), Scandal (ABC), Sense8 (Netflix), How to Get Away with Murder (ABC), Playing House (USA Network), Blunt Talk (Starz), Orange is the New Black (Netflix), Vanderpump Rules (Bravo), Madam Secretary (CBS)