Every thirty days, I like to post a list of my favorite films I've recently watched. Here are the best films I've seen throughout the month of September. This list is based on movies theatrically released here in Canada, and I do not include what I have seen at film festivals.
****
#1: We Need To Talk About Kevin
Directed by Lynne Ramsay
Written by Rory Kinnear and Lynne Ramsay
Hell best describes Lynne Ramsay's latest feature, her first in nine years ever since her brilliant and much overlooked Morvern Callar. Many critics have criticized the film for the characters portrayal, but they seem to be missing the point. One would assume the movie is about its titular character, but the movie really isn't about Kevin at all. We Need To Talk About Kevin is all about perception – in this case, in how Eva perceives the world, how she regards her son and how she views situations in her past. It's about Swinton's Eva, her guilt, regret and loss; therefore the movie largely takes place in her tormented mind.
Ramsay's direction is confident and composed. Her stylistic touches burn through the dread that is stripped back gradually through the blood-coloured production design. The actual massacre is wisely kept offscreen and instead recalled through a reoccurring motif of the colour red that filters through the pictures veins for its entire running time: from the unforgettable opening at a Spanish festival where a crowd of people drown themselves with tomatoes juice to the red paint splattered on her house by vandals, which Eva spends her days scrubbing away. Red is predominantly everywhere in sight, in food, traffic lights, make up, clothing and much more. The colour design here alluding at the tragedy buried deep in Eva's soul. Rather than conflicting with its dark subject matter, the film's visual beauty instead punctuates the horror. Ramsay with the help of editor Bini (best known for his work with Werner Herzog) commit to a time-shifting narrative from start to finish – juxtaposing thematic links between the past and present. To this end, she largely embraces the use of montage, cutting heavily between various shots to capture Eva's perceptions of evens past. Her Mise en scène is, at the outset, nothing short of exhilarating. Eva is present in every frame of the movie, yet Ramsay shoots in Cinemascope, so no matter how close she gets, Kevin isn't far behind. Tilda Swinton gives a tour-de-force performance conveying every thought racing through her character's mind. Its a true work of art; her best yet. Kevin is too special a movie to be embraced by the masses, but from where I sit, it is inarguably Ramsay's finest achievement so far.
#2: Kill List
Directed by Ben Wheatley
Screenplay by Ben Wheatley and Amy Jump
Kill List is presented in three distinct but smartly connected tissues: Ben Wheatley and his wife and scriptwriting partner, Amy Jump, have created somewhat of a kitchen-sink gothic horror film that blends black comedy, domestic drama and the whole buddy hit-man movie element into a seamless whole. The film's off-kilter take on violence can be traced back to movies like The Parallax View, Race with the Devil, Rosemary's Baby Pulp Fiction and The Wicker Man.
Utterly gripping, deeply unsettling and genuinely terrifying, Kill List is remarkably clever and resourceful filmmaking. This is a brilliantly directed, superbly written British horror film with terrific performances from its skillful cast of actors that will be dissected and argued long after its theatrical run is over.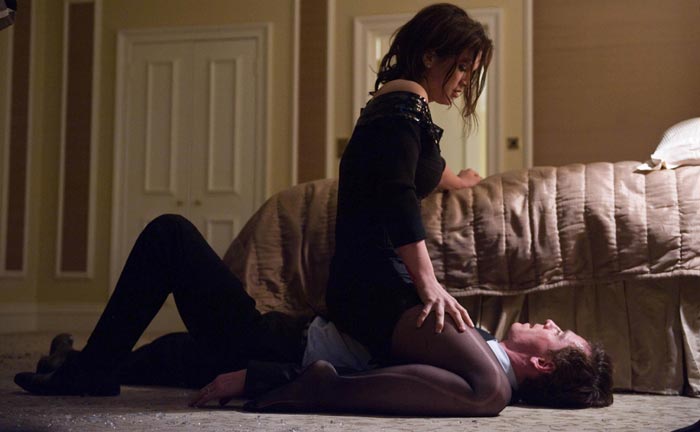 #3: Haywire
Directed by Steven Soderbergh
Screenplay by Lem Dobbs
2012, USA
At it's roots, Haywire is the sort of low-budget, straight-to-video action thriller that airs on late-night basic cable. Make no mistake about it, Steven Soderbergh purposely keeps the picture true to its low-rent B-movie principles, right down to the strong heroine at its center. On paper, Haywrire sounds like your sort of run of the mill spy thriller, but several things elevate the film to well-above-average. Screenwriter Lem Dobbs who previously penned Dark City, The Limey and Kapka, is an accomplished enough storyteller, but here, he strips down the plot to an old-school, thrill-a-minute, striaghtforward, lean, globetrotting Spy Thriller. Haywire isn't a by-the-numbers action vehicle, this is a fast, crafty and spare thriller, with a sharp cast, and Steven Soderbergh's unmistakably sly direction.
Soderbergh has a knack for being inventive without showing off, and Haywire is a prime example. The credit is all on Soderbergh's shoulders since he acts as cinematographer, director and editor for his film. Haywire's defining characteristic is its look. The selection of shots are random and varied but he opts for simple images. The fight scenes are music free and the use of ambient sound only heightens the drama and tension. And in between, we are treated to David Gross's funk cool jazzy score which only helps to enhance the vintage feel. Shooting digitally on the 4K Red One camera, Soderbergh gives Haywire a visually sophisticated look, with tonal palettes color-coded to help make sense of time and place. Although some of the director's choices seem to be without rhyme or reason, others accomplish a specific goal. Soderbergh picks his angles artfully and allows Gina Carano, the amazonian brunette, to demonstrate her arsenal of acrobatic fighting tricks in extended, no-cheating, cleanly choreographed hand-to-hand fighting. Haywire is a bit like the Bourne movies, only stripped down with a UFC twist.
#4: The Grey
Directed by Joe Carnahan
Screenplay by Joe Carnahan
USA
Writer/director Joe Carnahan adapts the short story Ghost Walkers by Ian Mackenzie Jeffers to deliver his best film yet. The Grey is a welcome surprise – a man vs. nature epic/survivalist thriller that's quiet, contemplative, and straightforward. There's an almost poetic quality to the way things develop, with characters becoming increasingly introspective. You don't expect poetry in what is marketed as an action film, but The Grey delivers it in spades literally and metaphorically. For all its machismo speeches and standoffs, The Grey is at heart a simple moral fable.
At nearly age 60, Liam Neeson lights up the screen as Ottway, proving to be one of the few magnetic action heroes left working in Hollywood. The Grey also offers us three great moments: The initial meeting with the wolves works incredibly well as the director gradually reveals several sets of gleaming eyes peering through the darkness like headlights. The second: one of the most realistic and frightening air crashes ever committed to celluloid and the third: an extraordinary scene early on in which, just after the crash, Neeson's character encourages a dying man to let go and accept his fate.
The Grey's abrupt cut-to-black ending will anger some viewers but in retrospect, it allows us to recognize how things would realistically play out while also giving us some form of hope, the same hope that impels the characters through their journey.
#5: A Dangerous Method
Directed by David Cronenberg
Screenplay by Christopher Hampton
USA
A Dangerous Method is a historical romantic tragedy about the early days of psychoanalysis, bolstered by terrific performances by the exceptionally charismatic Michael Fassbender (as a pent-up Jung), Viggo Mortensen (as the sybaritic, cigar-chomping Freud) and Keira Knightley (who inhabits the hysteria of Spielrein). Since the film's three principals were pioneers in the field of psychotherapy, it goes without saying there's a lot of dialogue about their practice – potentially enough to overload most audiences, but for more patient film-goers, it's a handsome and stimulating film, noteworthy for its terrific acting and provocative ideas. Cronenberg has reached the stage of his career where he doesn't feel it necessary to pander to expectations. Instead he seeks to engage us, and for the most part he succeeds, even if one can help but think he is just skimming the surface of what could have been more compelling material.
#6: Carnage
Directed by Roman Polanski
Screenplay by Roman Polanski's
USA
Adapted from the play God of Carnage by director Roman Polanski and Yasmina Reza (who wrote the original stage play), Carnage makes no attempt to "open up." With the exception of a brief prologue and epilogue, the entire film takes place within the confines of a New York City apartment complex. And when it comes to being stuck in an apartment, nobody quite knows how to entertain us like Polanski. Entirely dialogue-driven with almost no plot to speak of, Carnage is short, razor sharp, lean and hilarious. Much like Who's Afraid Of Virginia Woolf, the film centres on two couples who over the course of an evening, spend the majority of the time bickering. Polanski's smooth direction and the assured performances by Jodie Foster, John C. Reilly, Christoph Waltz and Kate Winslet keep things moving at a quick pace, allowing Carnage tor rise above its inherent cinematic limitations.
[wpchatai]