An Original Voice
"We didn't get mad, we got smart," HBO CEO Michael Fuchs said about hitting The Wall, looking back at HBO stalling in 1984 from the vantage of the early 1990s. Actually, a lot of the rank and file didn't get mad or smart; we'd seen 125 of our friends and colleagues get shown the door when the company had suddenly flatlined after eight years of phenomenal growth, and what we got was scared.
But it's to the credit of HBO's execs that whatever anxieties they may have had, they showed no panic or even nervousness in public. Instead, they poured any concerns into energetically and immediately addressing the question of, "What do we do now?" The world we knew had changed and there was no going back to the Gold Rush days of the late 1970s and early 1980s. The company required a humongous re-think about its business re: what it did and how it did it.
One of the strategies that came out of that re-think was how the service was sold. "Well, ok, then," this particular re-thinking ran, "if the people aren't chasing the cable truck down the street anymore, we're going to start chasing the people."
Time had been working in the company's favor. As the '80s had worn on, VCR owners had found home video had its own, annoying limitations: depth of copy issues, all that slogging back and forth to rent and return videos, late fees, and the nasty surprise that a hell of a tab could be run up with surprisingly few rentals. The novelty was wearing off, the VCR honeymoon was over. About that same time, HBO began reminding the consumer – in not so subtle "HEY, YOU!" fashion — that for pennies per title and with the convenience of never leaving home, maybe pay-TV was still the better bargain.
In a 25th Anniversary piece for Multichannel News, one-time HBO president of the company's U.S. Network Group, John Billock, remembered that in the truck-chasing days of the business, "…anything beyond a radio ad or newspaper ad slick was totally over the top for this industry…" But by the late 1980s, anything short of a media blitz was considered half-hearted.
In 1985 – the very next year after the company hit The Wall — HBO initiated its first in a series of massive summer promotional campaigns marked by a blizzard of direct mail backed up by aggressive telemarketing and the company's first national TV ads (why summer? The kids are home from school with nothing to do, and it was repeat season for the broadcast networks – their weakest schedule of the year. The summer campaigns were a well-timed counterpunch). Within two years, HBO was one of the largest direct-mail marketers in the country; by 1992, the company had crammed over 640 million pieces of junk mail into American mailboxes, and was making 10 million telemarketing calls each year. As annoying as all that mailbox litter and dinnertime-interruptus calls may have been, they worked. The company would never see the kind of explosive numbers it had experienced in the late 1970s and early 1980s; there was too little growth room left in the cable universe for that. But, the company was growing again, if not spectacularly, at least regularly.
In a 10th Anniversary commemorative history of the company (HBO: The First Ten Years), Chapter 3 – "Creations" – begins thusly: "If a company offers an inadequate product, it will ultimately gain little benefit despite the most persuasive marketing efforts, efficient delivery systems or powerful finances."
This was usually translated in a simpler, oft-repeated mantra I used to hear in staff meetings as marketing "…only gets 'em in the tent." Once HBO got them there, it had to have something to show them, and the programming model had to change to fit the new home video-flavored market. Research was showing that the major home use of the VCR wasn't for playing rented movies, but for time-shifting: recording programming from cable or broadcast TV for later viewing, and/or to become part of a home library (an example in extremis: I knew one guy with a floor-to-ceiling shelf unit six feet wide crammed with hundreds of movies he'd recorded off his cable channels). The concept behind the new model, then, was to provide subs with a steady diet of things to watch and/or tape by bulking up the number of titles in a month while reducing repeats.
The less touted flip side to this change was it didn't mean HBO was acquiring more new movies. A lot of that bulking up came from licensing studio library product. The number of new movies premiering monthly didn't change, and those premieres were airing about the same number of times each year as they had under the old model, only now they were appearing fewer times in a month, but in more months. To some subscribers, the stretching out of airings over the year made it seem like the more popular movies i.e. the ones you were most prone to remember were hardly ever off the air. That particular irritation was multiplied for HBO/Cinemax subscribers since the two services routinely shared top-end movies although never in the same month. With the two channels tag-teaming high-profile titles – first it was on HBO, then next month on Cinemax, then back on HBO — it not only seemed but was the case that if you had both channels, there were movies that were appearing almost every month.
Another part of the re-thinking that had come out of that head-ringing Wall-hitting was that it was time for Home Box Office to be more than what it had been. The result was a strategic change in the evolutionary course of the company; one which would redefine the very nature of what HBO represented to the consumer, and which would, in time, kick off the greatest change in television since HBO had gone on the air.
*****
The transformative figure in HBO's history is Michael Fuchs. A lawyer by training, Fuchs had come to HBO in 1977 from the William Morris Agency to work in HBO programming (which, at the time, mainly meant movies). By 1984, Fuchs had taken the company's top spot, replacing Frank Biondi, ousted in the wake of the budget-draining exclusive deal with Columbia (ironically, Columbia's owner at the time – Coca-Cola – would later hire Biondi to head up Columbia).
Look through news stories concerning Fuchs and the descriptives "impact player," "a builder," "take-charge executive" will come up. Dig around long enough and you'll also see such labels as "arrogant," "abrasive," "blunt," "confrontational, "high/heavy-handed." My personal favorite: "…(an) ego as big as the Ritz."
Fuchs had about him his loyalists who swore by him, including Bridget Potter, Fuchs' original programming chief (and, as I remember, the only woman at the time heading up programming for a major network), but there were those in the company who genuinely feared the man. Fuchs may not have actively cultivated that kind of climate, but neither was he one to nurture a warm and fuzzy feeling in the halls. I recall one incident when my boss took a draft of a speech we'd been working on for Fuchs in for the CEO's review. When my boss came slumping back, I asked, "What'd he say?" knowing by his slope-shouldered demeanor it couldn't have been anything good.
"Does the phrase, 'piece of shit' meaning anything to you?"
But whether one hated, feared, or admired Fuchs, no one questioned his fierce commitment to HBO. He protected the company like a mother bear, maneuvering to maintain HBO's independence even as the company's parent went through one massive reconfiguration after another with its mergers with Warner Communications in 1989, and basic cable powerhouse Turner Broadcasting in 1996.
During the company's traumatic Wall-hitting year of 1984, Time Inc. had sent one-time HBO chief Nick Nicholas (fearfully dubbed "Nick the Knife") – who had since "moved uptown" to become president of Time Inc. – back to HBO to oversee cutbacks and layoffs. One senior Human Resources officer told me that it was Fuchs' efforts which kept Nicholas and Time from exacting anything more than a minimal amount of blood from HBO.
Fuchs was just as committed to a long-term vision for the company transforming HBO from a relatively simple movie exhibition platform to a more multifaceted, more far-reaching organization. Part of that vision was to elevate original programming from little more than in-between-the-movies filler to one of the company's major draws.
As early as 1982, in HBO: The First Ten Years, Fuchs was anticipating a more original programming-dependent future for the service:
We were sensitive to what was around the corner – that explosion of television channels and other forms of entertainment. We knew we would have to be unique. We wanted our programs to be different, even to look different. We wanted people to glance at our shows and say, "That looks like HBO."
*****
If you stretch the definition of "original programming" to include sports, originals had been part of the HBO mix since the night it first went on the air. In fact, it's very first program, if you recall, had been a Rangers v. Canucks hockey game. And if you don't want to count sports (and this will make you wish you did), HBO's first original offering, premiering just four months after the channel's inaugural airing, was a music concert…though not exactly a big event spectacular starring headliners like Tina Turner and Barbra Streisand or a who's who of all-time great rockers saluting the Rock 'n' Roll Hall of Fame – the kind of ultra-glam stuff which would eventually become one of the company's signatures. Instead…
Ladies and gentlemen, for your listening pleasure, live from the Allentown Fairgrounds, sit back and enjoy the Pennsylvania Polka Festival starring those lederhosen-wearing lords of the two-step, those Bohemian bards of the ballroom, those finger-flying aces of the accordion…"Wally and the Polka Chips!"
I kid you not.
In those early years, the company had a tactical programming problem: only a small number of movies were available to HBO. At the time, the Federal Communications Commission had restrictions on what movies could be aired on pay-TV (titles under two or over ten years old). More restrictive were nervous movie distributors who still viewed the nascent service warily and were reluctant to license their heaviest-drawing titles to pay-TV. Out of necessity, HBO had to find something to supplement its movie programming.
Sports – which we'll get to in a bit more detail later on – was, as I said, a part of the mix from the start; they had, actually, been a part of Chuck Dolan's original vision for the service. As for original programming other than sports… Well, since there'd never been a channel like HBO before, nobody on the fledgling service's small programming crew had any real idea of what would work…and what wouldn't.
In its 10th Anniversary A Decade of Innovation commemorative album, the company bragged that by 1974, "HBO was blazing new trails."
Yeah, maybe, but when it came to original programming…not so much. Those blazing new trails included instructional shows on skiing and painting, travel, wine tasting, celebrity cooking, a not-bad kid's show called "Martha's Attic"…all in all, something between PBS and the kind of basic cable TV people were subscribing to HBO to get away from.
Which didn't bother subscribers that much. They often looked at these programs as so much filler between the movies, something passably watchable if there was nothing to watch elsewhere on the cable dial and you got a buzz watching Women's Lib icon Gloria Steinem teach you how to stir fry.
With that kind of motley low-fi mix, it was unsurprising that sports early on became HBO's original programming high card, although even in that area the HBO of then looked considerably different from the HBO of even just a few years later.
Again, it was a question of figuring out what would work, what wouldn't…and also what the small, yet-to-be-profitable service could afford. HBO: The First Ten Years tells of a sports line-up which included everything from hockey and basketball to rodeos, demolition derbies, harness racing, bowling, swim meets, and even master stunt motorcyclist Evel Knievel's failed attempt to jump the Snake River Canyon in a rocket-powered cycle. If the line-up had a catch-as-catch-can feel, HBO's execution left something to be desired as well. The broadcast networks had, at the time, nearly a quarter-century of experience in sports broadcasting. HBO; a quarter-century less.
In HBO: The First Ten Years, sports producer (and later chief of HBO's interstitial programming) Tim Braine tells of covering the Cowtown Rodeos in Woodstown, New Jersey (leave it to the still floundering HBO to go to Jersey to cover rodeo) where he had to signal the bronc riders to be released from the chutes "…so we wouldn't waste any videotape by shooting too soon." In the same book, there's another story about the HBO crew removing the small pennants hung across a pool during a swim meet because they blocked their cameras, not realizing the flags were there to signal backstrokers they were close to smashing their heads into the side of the pool…which, thanks to HBO, they did.
Experience would come. Settling on the sports that would work for HBO, however, was a more strategic, intellectual exercise. Once HBO went national with its move to satellite, team sports didn't seem to make sense. The broadcast networks, sports channels and regional services were already providing coverage of all major team sports and at a quantity that made HBO's joining in with its small contribution seem silly. HBO needed something that would play nationally, that would help build the brand, and that – most importantly – could become singular to the service. Boxing seemed to fit the bill (or, to be more pugilistically appropriate, fit the card).
The service had had several such singular ring successes in 1973 with the Jimmy Ellis/Earnie Shavers heavyweight bout, and an even more electric match-up between George Foreman and Joe Frazier. Boxing cemented itself as an HBO cornerstone in 1975, when the classic "Thrilla in Manila" heavyweight battle royal between Muhammad Ali and Joe Frazier inaugurated coast-to-coast satellite delivery for the service.
A lot of the credit for turning HBO Sports into one of the company's programming keystones goes to Seth Abraham: a man Michael Fuchs once described to Seconds Out.com as "…one of the pioneers who built the modern HBO." A native New Yorker with a lifetime love of sports, Abraham had been working as special assistant to the president of Major League Baseball Promotions in 1978 when then vice president of original programming Fuchs siren-songed Abraham into coming over to HBO. Abraham would eventually wind up president of HBO Sports (in 1989, after Time's merger with Warner Communications, Abraham would be named president of Time Warner Sports, a post he held until he left to become chief operating officer of Madison Square Garden in 2000).
Abraham streamlined HBO's sports card exchanging quantity for quality, doing fewer things but doing them extremely well. As Abraham put it in a 1992 interview for Multichannel News, "If ESPN is a cafeteria, HBO is a five-star restaurant." Abraham and his team would establish long-term relationships with boxing headliners like Mike Tyson, George Foreman, and Sugar Ray Leonard ensuring a steady diet of top-drawer fights for the service, while always keeping an eye out for the next, rising Tyson, Foreman, Leonard, et al. And the guys once responsible for the swim meet mass head-bashing would become recognized as one of the best – if not the best — at covering the sport anywhere in television.
For years, HBO also provided same day coverage of the semifinals of both the U.S. Open and Wimbledon tennis championships, leading off with Wimbledon for the first time in 1975. Again, the channel's coverage was acknowledged as second to none, but with the broadcast networks holding on to coverage of the final matches, and with the amount of airtime on the channel the semis ate up (several hours a day for a week), tennis coverage lost its strategic value over time, and HBO discontinued first the U.S. Open, and then, eventually, Wimbledon.
As impressive as its boxing coverage was – in terms of acclaim and ratings numbers – a more low-key but just as impressive success was the long-running Inside the NFL. It was a stunningly simple show. Premiering in 1977 and airing weekly during the football season, the show initially had all the production value of a kid's lemonade stand. The bulk of the half-hour show consisted of slo-mo highlight reels of the previous Sunday's NFL games compiled by NFL Films, with the show's two hosts (the original duo were ex-Philadelphia Eagle Chuck Bednarik and veteran sportscaster Al Meltzer) providing some in-between commentary. As simple as the formula was, it was consistently engaging. Hosts would change, production values improve, and the show would eventually expand to an hour and begin including more feature pieces reducing the role the NFL highlights played on the show in the process (much to the disgruntlement of long-time purist fans). In 2008, HBO cancelled the show after 31 seasons making it one of the longest-running series in television (Showtime picked up the show and it remains a regular feature of the service at this writing).
HBO was eventually able to take the example of Inside the NFL – a sports show that didn't involve live sports coverage – and broaden the concept with a fair amount of success into the magazine-formatted Real Sports with Bryant Gumbel and On the Record with Bob Costas (which would evolve into Costas Now), and the unique sports documentary series produced in conjunction with NFL Films, Hard Knocks, a weekly behind-the-scenes look following an NFL team through its pre-season. All these programs stayed true to Seth Abraham's strategy of doing a few things, but executing them well.
*****
Outside of the sports arena, HBO played around with a number of formats, many of which were, in effect, stripping out the elements from the old variety show concept and building entire shows around them. Variety shows like Hollywood Palace and The Ed Sullivan Show – once a staple of broadcast TV – were just that; showcases which offered some music, some comedy, a little of this, a little of that. HBO's offer to subs was, Why settle for just a couple of minutes of what you like best?
Not having to worry (that much) about ratings, HBO could do things the broadcast nets couldn't, like provide an entire show of magicians, or ventriloquists, stand-up comics, as well as full-length music concerts. The two biggest areas of success for HBO out of this buffet were music and comedy, but the evolving cable programming arena began to erode their worth.
HBO had had a huge success with The Bette Midler Show in 1976, a commanding one-woman mix of music and comedy from the titular star. Midler's show kicked off HBO's Standing Room Only series of concerts, but the format had its limits. At one point in the early 1980s, HBO was taping a concert almost every other month, many of them featuring then chart-topping rockers like Boy George and The Who. But with the immediate success of MTV's rollout in 1981, the center of the pop/rock universe shifted to the new upstart channel. HBO's SRO strategy became one of less is more: fewer concerts, but what the company described as "world class" events i.e. Elton John Plays Central Park, Live in Concert: Tina Turner (recorded at a mammoth outdoor concert in Rio de Janeiro), a performance from Barbra Streisand's first concert tour in 28 years, an all-star salute to the Rock 'n' Roll Hall of Fame, and special fund-raising concerts like Farm Aid and Welcome Home, an all-star event supporting programs for veterans of the war in Vietnam.
HBO had hit another programming home run out of the box with its first On Location comedy concert in 1975 starring Robert Klein. HBO could not only offer subs a comedian's performance in full – the way you'd see it in a comedy club or theater – but uncut. When George Carlin appeared on HBO for the first time in 1977 (he would do 11 more concerts for the service), it was the first time stand-up comedy's Angry Man could perform his classic "The Seven Words You Can't Say on Television" on television.

The On Location comedy specials, and particularly the Young Comedians entries which featured rising young talent, provided breakthrough introductions (or at least major boosts) for talents which would soon become major names in entertainment: Andy Kaufman, Steve Martin, Roseanne Barr, and a Robin Williams who was just as much the free-riffing maniac as a Young Comedian as he would be as one of comedy's superstars.
But cable took a toll on the On Location format as well. As the cable spectrum expanded in the 1980s, stand-up comedy seemed to be the go-to format for every channel but ESPN and The Weather Channel. It was relatively cheap and easy to produce (part of its appeal to HBO), and the promise of 30-60 minutes of yuks was a consistent draw. Stand-up even started to help fill the airwaves of public access TV with footage from local comedy clubs. Eventually, the oversaturation took its own toll (try to find stand-up now outside of Comedy Central), and HBO's comedy strategy mirrored its music strategy: a few big concerts a year featuring major comedy performers.
*****
One genre which gave HBO an early programming credibility was documentary programming. In 1979, the service premiered a six-part documentary series called Time Was, hosted by Dick Cavett and an energetic green screen which dropped him in the middle of the seminal events of six decades, starting with the 1920s. In a way, Time Was was a less glib, less mocking version of VH 1's I Love the 70s/80s/90s shows. It turned out to be such a popular mix of entertainment and education that it led to two more similar series, Time Was and Yesteryear.

The success of the Cavett shows suggested a hole in broadcast TV programming HBO could exploit, and the opportunity was confirmed by She's Nobody's Baby, a 1981 doc produced by Ms. magazine and hosted by Alan Alda and Marlo Thomas, which traced the changing role of American women in the 20th Century. The doc earned a prestigious George Foster Peabody Broadcasting Award (the Peabodys are awarded to "…recognize distinguished achievement and meritorious service by broadcasters…"), making HBO the first pay-TV service so honored.
She's Nobody's Baby opened the door to a long, acclaimed line of HBO documentaries, many produced under the channel's America Undercover banner. It was one such doc – Soldiers in Hiding (1985), about the plight of Vietnam vets who, still traumatized by their war experiences, were living hermit-like lives in the American woodlands – which upped the company's programming prestige a few more notches by winning an Academy Award for Best Documentary: cable TV's first Oscar (in a nifty bit of strategizing, HBO would release promising documentaries on a minimum number of theater screens to qualify for Academy Award contention).
There were also any number of stand-alone docs, programs which went beyond the usual America Undercover format and budget i.e. the heart-breaking Dear America: Letters Home from Vietnam (1987), and the even more poignant Common Threads: Stories from the Quilt (1989).
Beginning with its first Consumer Reports special produced in 1980, the service would, over the years, turn out a series of informational documentaries (some designed specifically for young viewers) dealing with everything from product safety to money management and the dangers of smoking.
One of the company's most powerful info docs was AIDS: Everything You and Your Family Need to Know…But Were Afraid to Ask. Produced at the height of the AIDS epidemic in 1987, when many (if not most) Americans were misinformed, under-informed, or completely uninformed about the outbreak, AIDS: Everything You and Your Family Need to Know… was a commendable, straight-forward attempt to clear the air on the topic (the company's concern was genuine; many of us knew someone in the company who was either HIV+, had full-blown AIDS, or was dealing with someone close to them who was ill…and, in those early years, many of us also lost a colleague to AIDS). With the stern, bearded visage of then surgeon general C. Everett Koop addressing the camera, the doc set aside moral judgments and dispelled a lot of panic-igniting misperceptions about the disease with plain, calm talk. It was not the last time the company would deal head-on with a controversial topic, sometimes with multiple programs (AIDS, Vietnam veterans, the homeless, and the wars in Iraq and Afghanistan were issues to which – with an almost missionary zeal – the company would focus combinations of documentaries, special event programming, and scripted programs, sometimes over periods of years), and those instances were invariably the programmer's finest hours.
Still, HBO's documentaries have not been without their controversies: accusations of bias, distortion, and sometimes sensationalism, and there were times it seemed the company's fearless head of documentary programming, Sheila Nevins, a one-time documentary and news producer herself, was as intent on disturbing the audience as engaging them. But, on balance, these hundreds of programs represent an impressive body of work which have amassed dozens of Emmys, Oscars, and Peabodys, among other awards, and have gone a long way to making the service one of the most honored in television as well as one of the most respected documentary producers in American media.
But it's worth noting – as anyone in Hollywood can tell you — that acclaim and respect, sadly, doesn't always pay the bills. HBO documentaries rarely draw large audiences which, considering their typically low cost, is something the company has always been able to live with. In that paradigm, they more than pay for themselves in the prestige and acclaim they bring to the service. But in Real Sex, Nevins found herself a bill-payer.
Running from 1992 to 2009 on an occasional basis during late night dayparts, Real Sex was a magazine-format series that frankly (meaning explicitly) looked at any variety of matters sexual, from the mildly kinky (a masturbation clinic for women) to the bizarre (eerily life-like sex dolls). As might be expected, there were subs who found the shows repugnant and offensive, but even more wanted to know where to buy a lot of the, ahem, devices, appliances, and exotic wardrobe items exhibited on the show. Nevins never apologized for Real Sex, taking the stand it presented a healthy, open-minded attitude about its topics, however off the sexual mainstream some of its subjects might be. Michael Fuchs often plainly explained one of the brutal realities of TV, even for a channel operating outside the usual ratings-ruled rules of broadcasting: that shows like Real Sex paid for shows like Dear America and Common Threads.
*****
In 1978, as a Christmas present to its subscribers, HBO offered Emmet Otter's Jug-Band Christmas, an utterly charming puppet-populated creation by Muppet maestro Jim Henson. This holiday tale about a bunch of musical beavers was sweet enough for kids, entertaining enough for their parents to watch along with them, and executed well enough to win an ACE Award (Award for Cable Excellence: the cable industry's own awards created in the days before cable programming was eligible for Emmys) and an International Emmy.
The success of Emmet Otter brought Henson back to HBO a few years later in 1983 with one of the true classics of children's programming, right up there with Henson's Sesame Street Muppets and his long-running The Muppet Show, and just as fondly remembered: Fraggle Rock. Another ACE/International Emmy-winner, the weekly Fraggle would run for five years on HBO and later appear on TVs around the world.
Despite rare misfires like the well-intentioned but lethally bland Seabert the Seal Pup, HBO would produce a growing body of respected work not only for children (like the much-praised Brain Games and Happily Ever After: Fairy Tales for Every Child – a multicultural revisiting of classic fairy tales), but for teens as well; shows ranging from frank documentaries to true story-inspired docudramas under the Lifestories and HBO Family Showcase banners on everything from AIDS and STDs to homosexuality and teen suicide. The same kind of parents who objected to sex ed in schools weren't any happier about having it on their HBO service, but the positive press earned by the shows and the local events HBO often sponsored in conjunction with them more than made these presentations (another comparatively low-budget item) worth their while.
Now, let me tell you the dirty little secret about HBO's family programming. With the notable exception of Fraggle Rock, kids didn't watch it…at least not in appreciable numbers. Kids didn't like it. Much of the service's kid entertainment was like broccoli; good for a youngster's intellectual nutrition, but not so much fun to eat. Meanwhile, over at Cartoon Network and The Disney Channel, there was a full buffet of intellectual Twinkies. HBO's family originals won parental respect over competitors' hands down, but they could never match the drawing power of a Spongebob.
It didn't matter. Parents felt good knowing the broccoli was on the menu, even if they didn't make their kids eat it. In that sense, children's programming was as much a marketing tactic as a programming strategy.
By the 2000s, however, the effort and money expended seemed worth the trouble less and less. The Disney Channel had gone from a premium service to a basic channel in 1997, the same year News Corp. bought the Christian Broadcast Network's Family Channel and transformed it into Fox Family (later bought by Disney/ABC in 2001 and re-branded ABC Family), and Cartoon Network – another Time Warner property through the Turner networks – had been on the air since 1992. By the 2000s, all of them had aggressively and successfully expanded their original programming leaving HBO's broccoli-flavored offerings increasingly left uneaten on the plate. A mark of how reduced the profile of HBO's kid-friendly programming has become can be seen by tuning into HBO Family, the service's family-dedicated multiplex channel. Most of the channel's original programming is made up of titles recycled from as far back as the 1990s if not further.
*****
In its early years, HBO's original programming consisted almost entirely of either unscripted (concerts and sports) or reality-based programming (documentaries). Scripted comedy and drama, well, that's the cream of TV entertainment. Getting a scripted show to work is not unlike getting the planets to align: the right idea executed by the right talent and presented in the right format on the right platform rightly scheduled and promoted. If you get those planets to align, then you have to hope they align week after week and episode after episode, and then season after season.
And then you have to hope the audience finds the show…and likes it…and likes it week after week and episode after episode, season after season.
How hard is that to pull off? The majority of new TV shows – sometimes close to 100 – introduced every fall fail, some even before they've gotten through the 13-week fall season. Few – if any – of the survivors are breakout hits.
So, there's a young HBO, casting about for original programming that might be distinctive to the service, and involves something more than two big, sweaty guys punching hell out of each other or George Carlin telling everybody to fuck off. HBO came up with the classy-sounding idea of airing stage plays.
I'm not talking about adaptations of stage plays. I'm talking about videotaping plays while they were being performed in theaters in front of a live audience. It was not an especially novel idea; A & E had done some of it in its early years when it was still trying to program as much Art as Entertainment, and PBS had been doing it for ages. The fact that years of PBS videotapings of stage plays had never set viewers buzzing around the water cooler the next day should have been a tipoff that theater might not be that much of an ace for HBO to play.
Still, in 1981, HBO gave it a shot presenting Jack Heifner's off-Broadway play Vanities under its Standing Room Only umbrella. The reviews were nice, the viewer response strong enough to suggest maybe this was, after all, a workable niche for the service, and the channel began turning out an intermittent stream of taped stage shows.
But theater on HBO suffered many of the same drawbacks theater on TV anywhere suffers, one being that, while trying to shoot a live in-front-of-the-audience performance, a taped stage play looks like, well, a taped stage play. It's visually bland, physically unimpressive, and the performances seem too big and loud for the living room TV.
The bigger issue was access to strong-drawing material. Theater producers didn't want to license TV rights to buzz-generating new plays still in their first runs (Vanities was five years old when HBO aired it, and had concluded its off-Broadway run) for fear it would cut into their box office receipts. Consequently, HBO wound up licensing older (sometimes really old) plays, like a production of William Inge's 1955 Bus Stop. With an acclaimed 1956 movie version starring Marilyn Monroe still showing up on TV, who needed HBO to make the same stop?
The channel's 1982 big-budget taping of Camelot seemed to be a bet-the-farm effort for the concept of stage plays on the service. For the first time, HBO had a biggie on its hands. The beloved Alan Jay Lerner musical was in the midst of a Broadway revival, the cast headed by a well-known star – Richard Harris, who'd starred in the 1967 film version – and a performance would be staged specifically for the cameras. But the small screen (and they were all small screens in those days) couldn't capture the electricity or opulence of a large-scale Broadway musical in a majestic Broadway house, and the performances still came off outsized and booming, and while it may have been a current production, it was still a 22-year-old play. It was, for HBO, a well-reviewed stiff.
And with that, for all intents and purposes, the final curtain came down on HBO Thee-yah-tah.
*****
As I said, a TV series – even a lousy one – is an enormous logistical and creative feat to pull off. A standard 13-week season costs more, puts its personnel through a more grueling schedule, and devours more material than all but the most expensive blockbuster movies. A series has to work every demanding week…but a movie only has to work once.
Which is undoubtedly why HBO scored its most notable early successes in scripted programming with original movies: it was easier. Now, I said easier; not easy.
Producer Gerald Abrams says it was some of HBO's early movies which flagged him that this still relatively new service was something "special." I doubt Abrams means the earliest HBO original movies.
The first original film aired by the service was The Terry Fox Story (1983), a true-life drama about a young Canadian (Eric Fryer) who, having lost a leg to cancer, attempts to run across Canada to raise money for cancer research. Robert Duvall in a supporting role gave the movie some star wattage, and it was, on the whole, a noble, respectable, if unexceptional biopic.
Maybe Terry Fox was no great shakes, maybe it wasn't any better – or any more unique – than the average run-of-the-mill made-for-TV movie of the day…but it was infinitely better than the movie that was supposed to inaugurate HBO's feature filmmaking.
Right of Way (1983), starring two Old Hollywood greats – James Stewart and Bette Davis — was intended to announce HBO's entry into the movie-making game in a big way. Stewart and Davis play a couple planning a joint suicide after Davis' character learns she's terminally ill. After viewing the finished film, HBO gave a similar diagnosis to the movie, airing it as its second original film with minimal hype and its listing buried in the service's HBO Program Guide, almost as if the company was hoping people would miss it.
Through the company's first few efforts, Terry Fox's bland nobility was beginning to look like the best HBO could do. The company's output seemed restricted to a range of so-so to just-plain-sucks with pics like To Catch a King (1984), The Blood of Others (1984), The Glitter Dome (1984), Blackout (1985), Draw! (1984), and the phenomenally abysmal supernatural thriller, The Cold Room (1984). The critical consensus was HBO was much better at airing movies than making them.
Years later, when the company's reputation as a TV movie producer had acquired some shiny gold plate as well as a few Emmys and other accolades, I asked one of our veteran PR people who'd been around for those first original flicks how we'd come to make so many crappy movies back then.
"Because we could."
Which requires some explanation.
If you were a producer with a property you wanted to make, the first place you went was to the major movie studios, which was a no-brainer: they paid the best, they got you big stars, big-name directors, a big, heavily-promoted release. If they passed, you worked your way down through the movie-making hierarchy, to the next tier of smaller studios, and so on. When you struck out pitching your project as a big screen feature, then you went to the Big Three broadcast networks because they were the next best payers. And then, when you struck out with them…well, that's when you went to HBO. Keep in mind that, at the time, HBO had less than 20 million subscribers (less than 10% of the U.S. population at the time), and there was no demonstrated aftermarkets (sales to TV, and home video hadn't quite blossomed yet) for programming made for HBO. You took your script to HBO because you had nowhere else to go.
Which put the company in a position similar to that of an expansion team: getting the crappy players nobody else wanted. For the same reason, the channel wasn't exactly a magnet for major talent. One of the trademarks of those early HBO original movies are casts toplined by stars on the downward slope of their careers: Kirk Douglas, George Segal, James Coburn, Robert Wagner, Richard Widmark, and the aforementioned James Stewart and Bette Davis.
I remember Bob Cooper, who produced Terry Fox as well as some of HBO's better features and would go on to become head of the company's original feature division, being asked when he thought things turned around for the company's made-for efforts. His answer: the bio pic Mandela (1987). Like Terry Fox, Mandela was a respectful, dignified, handsomely produced effort (the film was shot on location in Zimbabwe) which picked up an ACE Award, an Emmy nom for Danny Glover in the starring role, and some warm reviews. More strategically important, Mandela showed HBO was more than a place where you brought projects nobody else wanted to make; it was a place where you brought projects nobody else could make.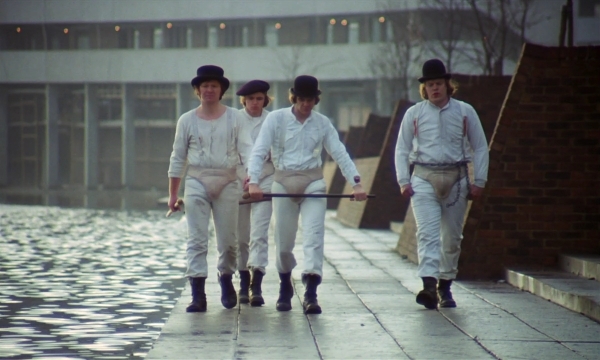 When HBO had gone on the air in the early 1970s, Hollywood was still turning out a regular parade of edgy, provocative, adult dramas like Network (1976), A Clockwork Orange (1971), Deliverance (1972), Dog Day Afternoon (1975), Straw Dogs (1971), Patton (1970), Last Tango in Paris (1972), All the President's Men (1976), Chinatown (1974), et al. But Jaws (1975) and Star Wars (1977) had sent the movie industry chasing phenomenal returns down another path: big-budget blockbusters aimed at young ticket-buyers, especially teens.
Older demographics were left underserved, and that's where HBO original films found their sweet spot. Produced for two-three times what the broadcast networks spent on made-fors, the HBO original films which followed those less than auspicious early efforts were always well-produced, intelligently written, and aimed at a grown-up sensibility. Following in the success of Terry Fox and Mandela, Biopics became a go-to format, with flicks like The Josephine Baker Story (1991), Stalin (1992), Sakharov (1984), and the Bob Cooper-produced Murderers Among Us: The Simon Wiesenthal Story (1989) which copped a writing Emmy as well as nominations for Ben Kingsley in the leading role, and for Outstanding Drama Special.
As HBO grew more sure-footed, its profile as a programming platform more visible, and its openness to credible moviemakers with a passion project in hand clearly demonstrated, better and more high profile projects began to come through the door. While there was the occasional romance (Finnegan Begin Again, 1985) and drama (Empire Falls, 2005; Angels in America, 2003), HBO's specialties became those pieces of history glossed over in the history books either out of negligence (The Tuskegee Airmen, 1995), or because they didn't fit in with an upbeat, always-the-good-guy brand of American myth (Bury My Heart at Wounded Knee, 2007), or because they shone a painfully bright light on missteps and failures of national will at the highest levels (A Bright Shining Lie, 1998; And the Band Played On, 1993).
Boosting HBO's original movie-making stature was a gradual retreat from the form by the broadcast networks. By the end of the 1980s, broadcast TV's share of viewers had eroded to the point where more people were watching cable than the Big Three broadcasters. The days of thought-provoking network TV movies like A Certain Summer (1972), Roe vs. Wade (1989), Serving in Silence: The Margarethe Cammermeyer Story (1995), and The Day After (1983) were coming to an end. More and more, the Big Three made programming choices which smelled of a desperation to cut through the clutter of an expanding TV universe and grab at viewers any sensationalistic way possible. The nets would come to complain that HBO had come to monopolize the Outstanding Drama Special category of the Emmys with its more lavishly-produced TV movies, but the Big Three had done it to themselves, perhaps their worst moment being the 1992-1993 season where all three made a lousy movie about the infamous "Long Island Lolita" case (17-year-old Amy Fisher tried to murder the wife of her lover, 38-year-old Joey Buttafucco). That same year, HBO original movies took four of the five TV movie nomination slots at the Emmys (PBS took the fifth), and its biopic Stalin and cheeky look at the massive RJR/Nabisco merger Barbarians at the Gate tied for the win.
In the late 1980s, as HBO Pictures began to assume a respectable place in the world of made-fors, for all the deserved praise and well-earned awards, there was still something missing in the company's glossy productions. These were projects movie studios didn't make because they were running after the youth market, and the broadcast networks didn't make because they judged them lacking in the kind of mass audience appeal they needed as their lock on that same mass audience was eroding. But outside of those value judgments, in terms of content, there was little or nothing in most of these movies the studios or networks couldn't do. These pics seemed to generally take little advantage of the fact they were on HBO. They lacked – to use an overused media word – "edge," and there was that taste of TV broccoli about them.
Bob Cooper had consistently won Emmys for HBO and that had brought him into the company to head up the original movie division. A diminutive man who could pass for Old Hollywood movie mogul Darryl Zanuck's long lost brother right down to the ever-present oversized cigar, I once heard one of the HBO PR people say of him, "Bob really wants to make good movies. He really, really does. I just don't think he always knows what a good movie is."
Someone in HBO must have felt similarly and that resulted in the creation of HBO Showcase under the leadership of Colin Callender, a British import and stage/TV/film producer who had produced the acclaimed drama Mr. Halpern and Mr. Johnson for the company in 1983.. Based in New York instead of Los Angeles (the home of HBO Pictures), Showcase debuted in 1986 with true story Yuri Nosenko, KGB, the story of one of the biggest defection coups – or biggest double agent con jobs – in CIA history. The Showcase mandate was to go tougher and grittier than HBO Pictures, and they did with pictures like the AIDS allegory Daybreak (1993), kids-and-guns drama Strapped (1993), behind-the-scenes revelations of covert operations chicanery in Tailspin: Behind the Korean Airliner Tragedy (1989), and The Doomsday Gun (1994).
At least some of the Showcase crew chafed at their second class status. HBO Pictures got the big budgets, the bigger stars, the bigger promo push, and the most public attention, while Showcase – in their view – was making the better, more distinctively HBO pictures on budget about half the size of the typical HBO Picture .
Eventually, the two divisions were rolled into one under the banner HBO Films with Callender at the helm. By that time, HBO original movies – both the top-end Pictures and the hardboiled Showcase features – had found their true voice.
The movie business wanted young ticket-buyers, the nets wanted the biggest viewer numbers possible. HBO had discovered that forging its own unique identity involved not just doing movies the studios and network TV wouldn't do, but in doing movies they were afraid to do. Movies about government missteps, shady business dealings, dark chapters in history became HBO's bread and butter. AIDS, abortion, corruption, race, homosexuality, wars both misguided and mishandled… There was hardly a hot button issue past or present the company wasn't willing to take on in a movie which, thanks to HBO's growing stature, could now attract heavy caliber directors and actors.
Ironically, with HBO's feature-making creative juices at their zenith, the same changing TV environment which had undercut the value of made-fors for broadcast TV now began to undercut their value to HBO as well. By the 2000s, a number of basic cable channels had been turning out strong original programs. HBO was no longer competing only against the Big Three, but against dozens of other channels offering distinctive, sometimes powerfully performing original programming.
One-shots like movies didn't instill and maintain a hold on an audience. They didn't bring people back to a channel week after week. Each HBO movie had to establish its identity and fight for an audience without anything to build on. Highly-acclaimed, Emmy-winning, smart, beautifully executed movies like The Path to War (2002, Lyndon Johnson's step-by-step march into the mire of Vietnam), Conspiracy (2001, a chilling portrayal of the decision-making behind the Nazis "Final Solution"), and Recount (2008, about the vote-counting debacle in Florida which decided the 2000 U.S. presidential election) — drew consistently low viewers.
A series, on the other hand – one which works – once it clicks with its audience, reinforces that connection week to week. A movie is a blind date; a series, once it's launched, becomes a relationship.
HBO would eventually cut back its movies, producing just four-six a year. They still have a strategic value to the service. A movie like Recount reinforces the channel's image as a producer of quality, relevant, important programs (even if few subs watch them), but it was clear going into the new century that the service's ability to remain a worthwhile investment to a new generation of audience was going to depend on bringing that audience back to the service week after week. The service's future was in series.
Series, as I said, are hard. Good series are harder. And hard things come neither easily, nor quickly.
Next week: Expanding The Brand
****
Click here to read every article in this series!
In The Beginning Was The Word: Radio
Into The Skies, Junior Birdmen!
 Title Fights: The King of Pay-TV