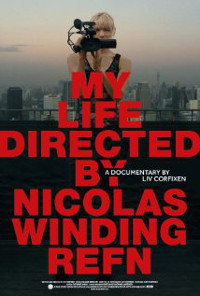 My Life Directed by Nicolas Winding Refn
Written and directed by Liv Corfixen
USA, 2014
The Life of Nicolas Winding Refn Directed by Me might have been a more appropriate title for Liv Corfixen's first documentary, which provides a behind-the-scenes insight into the making of her husband's latest film Only God Forgives. Following on from his remarkable critical and commercial success with Drive, Refn is under pressure to produce more of the same and in doing so satisfy both his financial backers and his artistic ambitions. It is also the first time that Corfixen and the couple's two daughters have joined Refn for an extended shoot abroad, creating a completely new environment in which he must balance his personal and professional lives.
Regardless of what the title suggests, My Life Directed by Nicolas Winding Refn has little to do with Corfixen or the impact Refn's film is having on her. Although she opens with a clip showing Refn literally directing her documentary and includes the occasional dispute over their respective workloads, she is strangely reluctant to put herself in front of the camera. Perhaps this self-marginalisation is supposed to be the point, emphasising how difficult she finds it to build her own career when her husband needs to shoot a multimillion dollar thriller with Ryan Gosling in Bangkok. But if that is the strategy, it is inherently self-defeating. Some contrast between their respective lifestyles would have been illuminating and made it easier for audiences to see her as more than just Refn's wife. It is telling that her most revealing moment comes in a tarot card reading led by Alejandro Jodorowsky.
It is unclear exactly why Corfixen started filming the documentary, although there are suggestions it was always intended mainly to portray Refn's creative process. This is where the film gets interesting, depicting Refn as a downbeat figure, anxious about virtually every aspect of his film and struggling to get to grips with what he is trying to achieve. "I've spent three years making this film and I don't even know what it's about," he exclaims at one point, knowing full well the project is too far down the line for him to do anything about it. It is only Gosling's presence that seems to rouse him from his depression, whether he is orchestrating a fight scene or entertaining his daughters. Incidentally, Gosling is so on the mark as Gosling that you sometimes wonder if the whole piece is an elaborately contrived vehicle for him, perhaps as a kind of apology for Only God Forgives?
It would be fascinating to know exactly what impact the reception Refn's film eventually received had on the documentary's editing process – it was savagely trashed when it premiered at Cannes, with one critic crudely describing it as "cinematic defecation". Did Refn have his optimistic moments, now consigned to the cutting room floor? Or was he always convinced that his film would be a failure? His main concern was that it would fail to live up to Drive's success, a view that seems at odds with his insistence that he has no desire to make the same film over and over again. He alludes to what is probably the root cause for his anxiety several times, although Corfixen fails to explain or even draw attention to these remarks.
"I don't think it will be as commercial as Drive," says Refn. "And then everything will be after me again." He is referring to the fallout from his 2003 film Fear X, which he brings up again later on in a slightly different context. Fear X was a commercial disaster that ended up bankrupting its production company and leaving Refn in significant personal debt. He only recovered by returning to Denmark and making two lucrative sequels to his breakthrough phenomenon Pusher. Having gone through that experience, he knows as well as anyone how fleeting success can be and acutely feels the unique pressure that all art-driven directors carry on their shoulders. With this in mind, his surly demeanour and childish provocations are more forgivable, especially as expectations for his follow-up to Drive were so great. Corfixen has made a documentary which has no obvious purpose but has nevertheless stumbled onto an intriguing portrait of ambition and artistic failure.
– Rob Dickie
For more information about the 2015 Glasgow Film Festival, visit their official website. You can also find more Sound on Sight coverage of GFF 2015 here.