It's no big secret I love horror films, but 2012 hasn't been a great year. In my top ten, three films carry over from 2011, two won't be released until 2013, two are animated and another isn't much of a horror film. With that said, 2012 gave us Berberian Sound Studio and Cabin In The Woods, and for that, I am forever grateful. Here is a list of the 21 horror films from 2012 I liked best.
****

#1: Berberian Sound Studio
Directed by Peter Strickland
Written by Peter Strickland
UK, 2012
Berberian Sound Studio reminds us of the power of sound over the visual image, and can surely join the ranks of Francis Ford Coppola's The Conversation and Brian DePalma's Blow Out as an absorbing appreciation of sound design. But both thematically and visually, Berberian is more of a descendant of the school of David Lynch and Roman Polanski. As things get increasingly, insanely bizarre, a pervasive mood of exploitation and corruption seeps through every frame. Although shot on a limited budget, the detail in this film is exquisite. Cinematographer Nic Knowland's dreamlike imagery is mesmerizing and the Goblin-esque music from a fake band called Hypnotera is terrifying.
#2: Kill List
Directed by Ben Wheatley
Screenplay by Ben Wheatley and Amy Jump
UK, 2011
Kill List is presented in three distinct but smartly connected threads. Ben Wheatley and his wife and scriptwriting partner, Amy Jump, have created somewhat of a kitchen-sink gothic horror film that blends black comedy, domestic drama and the a buddy hit-man movie element into a seamless whole. The film's off-kilter take on violence can be traced back to movies like The Parallax View, Race with the Devil, Rosemary's Baby, Pulp Fiction and The Wicker Man. Utterly gripping, deeply unsettling and genuinely terrifying, Kill List is remarkably clever and resourceful filmmaking. This brilliantly directed, superbly written British horror film will be dissected and argued over for decades to come.
#3: Cabin In The Woods
Directed by Drew Goddard
Screenplay by Joss Whedon and Drew Goddard
USA, 2012
The clever, high-concept Cabin In The Woods is without a doubt the best and most inventive cabin-in-the-woods picture since Sam Raimi's Evil Dead 2. It is also the most clever genre deconstruction since Wes Craven's Scream. Screenwriters Drew Goddard and Joss Whedon tease us with a simple set-up, only to turn the joke upside down and on its head. Crammed with small unanticipated and unexpected incidents and comical twists, director Drew Goddard defies conventions while demonstrating a strong understanding of modern horror. This over-the-top blend of Scream and The Adjustment Bureau puts a clever spin on Whedon's longstanding obsession with violence and voyeurism. With two interwoven narratives taking place at once, Goddard's multi-layered approach is ambitious – digging deeper than a self-reflexive game of name-checking. A horror film embedded in a conspiracy flick embedded within another horror movie; Cabin is a must see, if only for the final 20 minutes, in which all Hell breaks loose.
#4: The Lords of Salem
Directed by Rob Zombie
Written bu Rob zombie
2012, USA
Rock star-turned-director Rob Zombie has always been a controversial figure and perhaps the most polarizing director in modern horror. With Lords of Salem, Zombie creates a suffocating sense of foreboding dread. Much like Ti West's Innkeepers, mood and atmosphere is his primary concern. As the film progresses, things grow increasingly strange by the minute. Heidi's nightmares recall the best of Alejandro Jodorowsky and the surrealistic moments (specifically within the apartment) spring up comparisons to early Polanski. But there's no confusing his aesthetic with anyone else. With his latest, Zombie was given complete creative control, and the end result is a work of phantasmagorical cinema.
Usually when handed carte-blanche, directors find trouble eliminating superfluous elements, but here Zombie shows that he can discipline himself. The Lords of Salem is Rob Zombie's most patient and mature film. Salem is a textbook study on how to do horror right – largely bypassing the gore galore until the climax and avoiding the cheap "gotcha" scares that directors employ far too often. Salem is essentially a 70's-style European art-house horror flick culminating with an air of ambiguity – a take-no-prisoners final act painted with moments of crazed inspirations. Salem is an old-school horror flick sporadically interested in experimental decor.
Special Mention: Antiviral
Directed by Brandon Cronenberg
Written by Brandon Cronenberg
Canada, 2012
In Brandon Cronenberg's directorial debut, two competing companies in the thriving field of celebrity disease transfusions make it their business to harvest viruses from famous people and infect customers with clones of that virus, so that they have, in essence, fallen ill from their favourite celebrity. If that wasn't enough to send shivers down your spine, there's also a black market for meat formed out of cloned celebrity muscle cells.
Antiviral is a satire of celebrity fandom, a cold and clinical look at consumerism, modern technology, and the stuff that is making us a little less human. This isn't much of a horror film, but it does conclude with an abrupt piece of ghoulishly vampiric symbolism.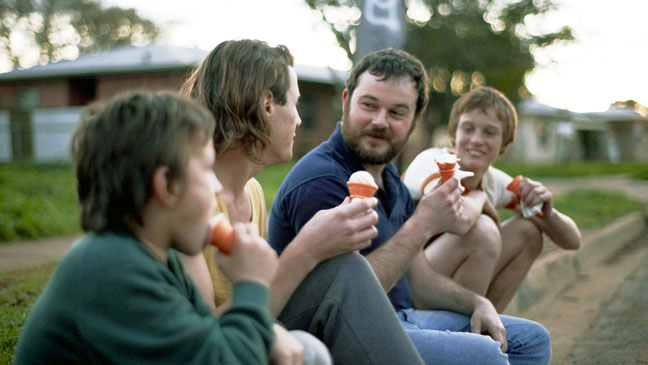 #5: The Snowtown Murders
Directed by Justin Kurzel
Written by Shuan Grant
Australia, 2011
First-time director Justin Kurzel and screenwriter Shaun Grant, using pointers from the books The Snowtown Murders and Killing for Pleasure, tell the story of John Bunting, Australia's most notorious serial killer, whose modus operandi led to his 1990s killing spree – dubbed the "bodies in the barrels" case.
Snowtown is unrelentingly grim and terrifying, and a strong directorial debut, showing great promise for a first time filmmaker. Director Justin Kurzel delivers a slow, effective burn, examining how one man's harmful beliefs spread through a community in the most horrific way possible. Kurzel for the most part avoids sensationalistic, macabre or exploitative techniques. Snowtown shows the irrational paranoia and prejudice of a small community, and how Bunting carefully infected the minds of those around him, spotlighting the very worst attitudes in society. The result is depressing and at times unbearable to watch.
#6: Paranorman
Directed by Chris Butler and Sam Fell
Written by Chris Butler
USA, 2012
Following on the filmmakers' success with their groundbreaking Academy Award-nominated Coraline, comes Paranorman, a savvy, intelligent, well-crafted animated horror comedy for the entire family. Fans of the genre cinema will get a real kick out of the referecnes to our favourite horror films from the past, but Paranorman excels is reminding us of the true horrors of adolescences. Much like Coraline, Paranorman focuses on an outcast finding solace in a parallel world. This new 3D stop-motion comedy thriller from LAIKA is truly uplifting and and insightful.
#7: Frankenweenie
Directed by Tim Burton
Written by John August
From the painstaking attention to detail in the stop motion animation, to Danny Elfman's thoughtful musical score, Frankenweenie is Tim Burtons' best film in years. It is also an ideal family film, and one which treats children with respect. The balance of macabre humour, charming and unusual characters, and loving homages to everything from Frankenstein to Universal Monster movies makes Frankenweenie one of the best animated films of 2012.
#8: The Innkeepers
Directed by Ti West
Written by Ti West
2011, USA
West has proven his skill as one of the best horror directors working today with several strong features. With The Innkeepers, he demonstrates his talent for working with his cast in creating characters who act and behave so believably and rationally given the events that unfold. With The Innkeepers, action is character and the director seems less interested in scares than in creating authentic and emotionally resonant characters in Claire and Luke. The back n forth banter between Healy and Paxton is pitch perfect and their chemistry makes their relationship the film's highlight. The first act is so well executed, it might just be the most accomplished of West's entire career.
#9: Doomsday Book
Directed by Jee-woon Kim and Pil-Sung Yim
Written by Jee-woon Kim and Pil-Sung Yim
South Korea, 2012
Plagued with many production problems, Doomsday Book was left incomplete for six years. Thankfully, the Korean sci-fi-horror anthology found a release in 2012. Three directors offer alternative variations on an apocalyptic theme with three loosely linked excursions: one story concerning a zombie outbreak, one a Buddhist robot, and another an impending apocalypse. This award-winning anthology echoes 2001: A Space Odyssey, 28 Days Later, Blade Runner, A.I.: Artificial Intelligence and many more.
#10: Resolution
Directed by Justin Benson and Aaron Moorhead
Written by Justin Benson
2012, USA
Over the past few months, I've read some negative reviews for Resolution, all terribly written. I also read some positive reviews, all eloquent, satisfying and stimulating. So when the filmmakers recently approached me asking if I'd be interested in a screener, I couldn't refuse. I knew this was going to be a smart film, and a movie that would go over the heads of most viewers. It was everything I hoped it would be and more. Resolution is one of the best indie-horror films in recent years. Resolution is the debut feature film from a pair of directors who deliver a clever, engrossing and original meta-horror film about a man helping his friend to beat his drug addiction. As one character states: "If we can get to the end of this reel of film, we will be fine." The same can be said for the viewer. The title itself has dual meaning, but only in retrospect. Resolution is one of those films that delivers an intelligent commentary on the genre and our relationship as a viewer without ever feeling smug or shallow.
#11: The Bay
Directed by Barry Levinson
Written by Michael Wallach
2012, USA
Acclaimed writer-director Barry Levinson switches gears for this eco-apocalypse thriller about a small Maryland town that becomes the victim of an ecological disaster. Although he seems more interested in spreading a green message, there is still enough gory moments to terrify an audience. The Bay is easily one of the best examples of the recent spate of found-footage horror films. Levinson uses multiple media sources including news reports, video diaries, home movies, security cams, and even Skype chats – a combination that adds an element of interest and realism to this grim mock-doc.
#12: Juan Of The Dead (Juan de los Muertos)
Directed by Alejandro Brugués
Screenplay by Alejandro Brugués
2011, Spain / Cuba
As Sid Vicious's version of "My Way" wells up on the closing credits, this familiar horror spoof might overstay its welcome for some, but for this critic, it's just enough to entertain. There are bits of physical comedy, visual gags and a cheerfully anarchic mixture of splatter, enough to keep horror aficionados more than happy: In one scene, a hundred zombies are decapitated with one single stroke. Yes the comedy is broad, and yes the story is ridiculous, and yes the film dips in pace midway, but there are just enough whimsical moments and deadpan hilarity to overcome any zombie fatigue.
#13: Excision
Directed by Richard Bates Jr.
Screenplay by Richard Bates Jr.
2012, USA
Barely scraping together the necessary funding, Excision somehow manages to mesmerize with its sound, intrigue with its visuals, and terrify us with the set pieces for Pauline's nightmares. Pauline's vivid dream sequences are certainly inventive; the film is beautifully shot and the soundtrack selection is stellar. Excision is cold, yet personal, a sharp, provocative character study that cements Bates as a director to watch out for.
#14: Here Comes the Devil
Directed Adrián García Bogliano
Screenplay by Adrián García Bogliano
2012, Mexico
In what seems like an homage to Peter Weir's masterpiece Picnic at Hanging Rock, Devil is an ominously atmospheric package that recalls the best of genre stylings from decades past, particularly those from directors Nicolas Roeg and Ken Russell. Sex and death and the tight bond between the two are at the bleeding center of the film. Devil is erotic, violent and mysterious.
Here Comes the Devil manages to be a haunting meditation on fear, sex, death and the beyond. Ambiguity is often the right way to go, and Devil leaves us with many unanswered questions. Amidst the confusion and unsettling atmosphere, the result is a discreetly artistic genre pic.
#15: V/H/S
Directed by David Bruckner, Ty West, Radio Silence, Glenn McQuaid Radio Silence Joe Swanberg and Adam Wingard
Screenplay by Simon Barrett, Matt Bettinelli-Olpin, David Bruckner, Tyler Gillett, Justin Martinez , Glenn McQuai, Radio Silence, Nicholas Tecosky, Chad Villella and Ti West
2012, USA
The predominant theme in V/H/S is subverting the male gaze through the use of modern technology, while you, the voyeur viewer, are morally questioned for taking pleasure in the horrific events that unfold. Set in the age of the Internet, portable cams and iPhones, the movie becomes a video within a video within a video; a film so effective in turning voyeurism into horror that it's perhaps deserving of future cult status.
#16: Cockneys vs. Zombies
Directed by Matthias Hoene
Written by James Moran and Lucas Roche
UK, 2012
Two cockney siblings with the help of some friends attempt to pull off a bank heist in hopes of using the money to save the quiet retirement community of which their grandfather resides. Only this isn't a heist film, it's a zom-com mixed with greenhorn gangster antics. The performances are over-the-top, the gags are silly and the production is low-budget, but Cockneys vs Zombies is totally entertaining.
#17: Lobos de Arga (Game of Werewolves)
Directed by Juan Martínez Moreno
Written by Juan Martínez Moreno
Spain, 2012
After 15 years, Tomas, a struggling writer, returns to his village in Galicia in hopes of finding peace and quiet so he can write his next novel. Instead, he is kidnapped by an angry mob of villagers who hope to use him as a human sacrifice in order to erase the curse that has been haunting the village for a hundred years. Game of Werewolves walks a fine line between splatter and slapstick, but the pitch-perfect balance of camp, gore and endearing characters makes Juan Martinez Moreno's buddy-horror-comedy an entertaining beast. Moreno carefully exploits genre tropes and seamlessly blends legitimate laughs and earnest scares. Wasting very little time, the filmmakers keep the picture moving from one fiasco to the next, and despite the sketchy special effects (arguably done purposely), Game of Werewolves has all the makings of a midnight movie hit. It also features the best dog actor of the year.
#18: Come Out and Play
Directed by Makinov
Written by Makinov
2012, Mexico
Come Out and Play isn't a bad film by any means, and made with obvious admiration and respect for the source material, but perhaps to a fault. If you're looking for an unapologetic, downbeat, surprisingly tense, slow-brewing bad-kids-horror film, you could do a lot worse. If anything, credit Makinov with getting the ending right and perhaps shining a bigger spotlight on Serrador's masterpiece for a new generations of horror fans to discover.
#19: [REC]³ Génesis
Directed by Paco Plaza
Written by Paco Plaza, Luiso Berdejo and David Gallart
Spain, 2012
REC] Genesis, directed by Paco Plaza, co-director of the first two films, sends the franchise into an unexpected direction. Starting as found footage, Plaza quickly abandons the genre altogether for a brighter setting, a wedding reception, some romance and a blood-soaked bride with a steaming chainsaw.
#20: John Dies at the End
Directed by Don Coscarelli
Written by Don Coscarelli
2012, USA
Thirty-odd years after directing Phantasm, and a decade after Bubba Ho-Tep, writer-director Don Coscarelli returns with his gonzo hallucinogenic adaptation of a story written by an internet geek for a generation of internet geeks. No doubt fans of the original source material will be disappointed, but despite its many flaws, John Dies at the End is relatively compelling, often funny and never boring.
[button align="right" color="red" caption="Greatest Horror Movies Of All Time" link="http://www.popoptiq.com/100-greatest-horror-movies-pt-1/"]
[button align="right" color="red" caption="Best Horror Movies of 2011″ link="http://www.popoptiq.com/best-horror-films-thriller-of-2011-so-far/"]
[wpchatai]